Instek PSW 80-13.5 Multi-Range DC Power Supply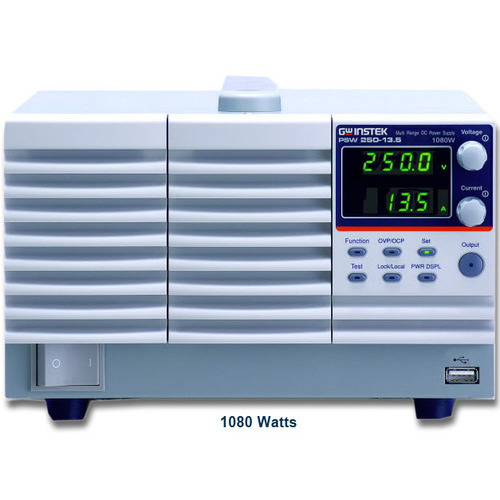 Condition:

New

Drill Down Description:

Multi-Range DC Power Supply

Model:

PSW 80-13.5

Product Code:

Instek

Quote Required:

No

Web Meta Description:

Browse through each item you'll need for your task, including the Instek PSW 80-13.5 Multi-Range DC Power Supply. TestEquity offers various delivery options to help meet your deadlines.

S3 Part Number:

19360.2
Voltage Rating: 0 to 80 V
Current Rating: 0 to 13.5 Amps
Output Power: 360 W maximum (Volts x Amps cannot exceed 360 W)
Constant Power Output for Multiple Range (V&I) Operation
CV/CC Priority; Particularly Suitable for the Battery and LED Industry
Adjustable Slew Rate
Series and Parallel Operation: (2 units in Series / 3 units in Parallel Maximum)
High Efficiency and High Power Density
Standard Interface: LAN, USB, Analog Control Interface
GPIB-USB Adapter (Optional)
LabVIEW Driver
Programmable Switching DC Power Supply
The PSW 80-13.5 is a single output multi-range programmable switching DC Power Supply with a power output of 360 watts. The multi-range feature allows the flexible and efficient configuration of voltage and current within its power range. As with all PSW-Series power supplies, the PSW 80-13.5 can be connected in series for maximum 2 units, or in parallel for maximum 3 units increasing their capacity for higher voltage or higher current output. With the flexibility of multi-range power utilization and series/parallel connection, the PSW 80-13.5 can significantly reduce your investment in various power supplies as it can accommodate projects with different power requirements.
The PSW 80-13.5 is a regulated switching DC power supply producing 0 to 80 volts and 0 to 13.5 amperes. It operates in Constant Current (CC) mode or Constant Voltage (CV) mode within a wide operating range. The CV/CC priority selection of the PSW-Series is a very useful feature for DUT protection. The conventional power supply normally operates under CV mode when the power output is turned on. This could bring a high inrush current to the capacitive load or current-intensive load at the power output-on stage.
The operation area of each power supply is determined by the rated output power as well as the voltage and current rating. The figures of operation area and rated power output for all PSW-Series models are shown below.


Includes: User's Manual (printed & CD), Power Cord, PSW-004 Basic Accessories Kit*.
* PSW-004 includes: M4 Terminal screws and washers (2), Air Filter, Analog control protection dummy, Analog control lock lever, M8 terminal bolts, nuts and washers (2).
Visit the GW Instek PWS Series Multi-Range DC Power Supplies product page for additional information. >>