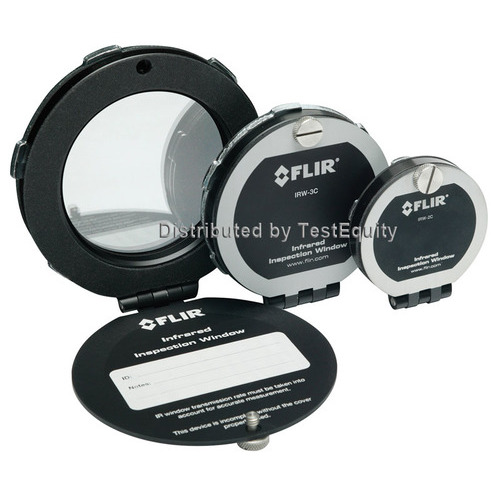 Condition:

New

Drill Down Description:

IR Window

Model:

IRW-3C

Quote Required:

No

Web Meta Description:

If you are searching for a Flir IRW-3C IR Window, TestEquity can provide the solution you need. We carry the best electronic test & measurement solutions from top manufacturers.

S3 Part Number:

19367.1
2", 3", and 4" models facilitate easy installation

Install quickly and securely using the same design as common conduit connections
Compatible with all thermal cameras

PIRma-Lock™ Reliability

Teeth lock tight to the inside of the panel — No screw holes required

Quick Access Hinged Cover

Simple thumb screw releases the permanently-hinged IR window cover:

Broadband Crystal IR Window

Lens encased in rugged, anodized aluminum frame allows indoor & outdoor scans

Greater Productivity and ROI

Significantly reduces inspection time for more efficient assessments within NFPA 70E guidelines

Limited Lifetime Warranty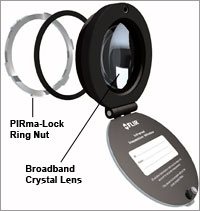 Safer, More Efficient Electrical IR Inspections
Opening electrical cabinets to perform IR and visual inspections of live components is dangerous work, with the potential of a hazardous arc flash incident. Anywhere from 5 to 10 arc flash accidents occur every day in the U.S., resulting in severe burn injuries that affect over 2,000 workers annually. Now you can put the added safety of new FLIR IR Windows between you and energized equipment to better protect yourself and eliminate the need for opening enclosures.
Easy to Install and Use
The IRW-2C, IRW-3C, and IRW-4C IR Inspection Windows have an IP Rating of IP67, and feature a secure, permanently-hinged covers that open easily with one hand. Their broadband crystals allow cameras to capture visible light pictures — as well as thermal images — and lets LED and laser illumination pass straight through for clearer visual assessments.
| IRW-2C | IRW-3C | IRW-4C |
| --- | --- | --- |
| 85.5mm (3.36") x 77mm (3.03") | 107.4mm (4.22") x 99mm (3.89") | 136.5mm (5.37") x 127.44mm (5.01") |