Keithley 3706A-S 6 Slot System Switch without DMM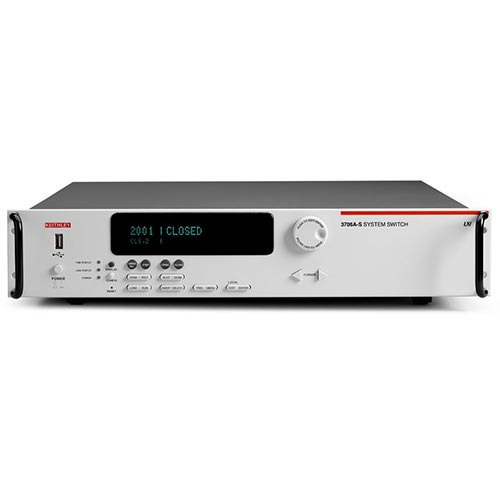 Condition:

New

Drill Down Description:

6 Slot System Switch without DMM

Model:

3706A-S

Quote Required:

No

Web Meta Description:

Shop here for the Keithley 3706A-S 6 Slot System Switch without DMM plus the other tools & supplies. With unmatched product selections, TestEquity offers everything you need to get the job done.
3706A-S: Six slot system switch mainframe WITHOUT DMM
Multi-processor architecture optimized for high throughput scanning and pattern switching applications
Remote PC control via Ethernet, USB, and GPIB interfaces
Up to 576 two-wire or 720 one-wire multiplexer channels in one mainframe
Up to 2,688 one-pole matrix crosspoints in one mainframe
Embedded Test Script Processor (TSP®) offering unparalleled system automation, throughput, and flexibility
TSP-Link® master/slave connection provides easy system expansion and seamless connection to Series 2600 SourceMeter® instruments
LXI Class B with embedded Web browser interface for test setup, maintenance, and basic application control
The Series 3700A offers scalable, instrument grade switching and multi-channel measurement solutions that are optimized for automated testing of electronic products and components. The Series 3700A includes four versions of the Model 3706A system switch mainframe along with a growing family of plug-in switch and control cards.
The Model 3706A/3706A-NFP systems switch with high performance digital multimeter contains six slots for plug-in cards in a compact 2U high (3.5-inch) enclosure that easily accommodates the needs of medium to high channel count applications. When fully loaded, a mainframe can support up to 576 two-wire multiplexer channels for unrivaled density and economical per channel costs. The high performance multimeter provides a tightly integrated switch and measurement system that meets the demanding application requirements in a functional test system or provides the flexibility needed in stand-alone data acquisition and measurement applications.
Optional Plug-In Cards (Click Model for product page):
Model
Description
Function
3720
Dual 1x30 Multiplexer
60 two-pole channels or 30 four-pole channels
(auto CJC for thermocouples with 3720-ST)
3721
Dual 1x20 Multiplexer
40 two-pole or 20 four-pole channels
(auto CJC for thermocouples with 3721-ST)
3722
Dual 1x48 High-Density Multiplexer
96 two-pole or 48 four-pole channels
3723
Dual 1x30 High-Speed Reed Relay Multiplexer
60 two-pole or 30 four-pole channels
3724
Dual 1x30 FET Multiplexer
60 two-pole or 30 four-pole channels
(auto CJC for thermocouples with 3724-ST)
3730
6x16 High-Density Matrix
6 row by 16 column matrix (2-pole)
3731
6x16 High-Speed Reed Relay Matrix
6 row by 16 column matrix (2-pole)
3732
Quad 4x28 Ultra-High Density Reed Relay Matrix
4 independent 4x28 matrices (1-pole)
3740
32-Channel Isolated Switch
28 general purpose Form C, 4 high current Form A
3750
Multifunction Control
40 digital I/O bits, 2 analog output channels, 4 counters
3760
High Current Switch Card
10-Channels, 2-pole, 5 A
3761
Low Current Multiplexer Card
10-channels, single-pole, 16 mA
3762
High Voltage Multiplexer Card
10-channels, double-pole, 1000 V
3765
3765 Hall Effect Card
Four rows by five columns, single pole
Included: Test Script Builder Software Suite CD, Ethernet Crossover Cable (CA-180-3A), Series 3700A Product CD (includes LabVIEW®, IVI C, and IVI.COM drivers)