Keysight N9322C/0B0 Basic Spectrum Analyzer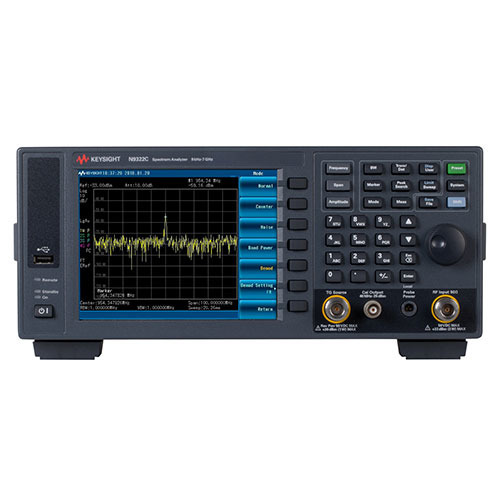 Condition:

New

Drill Down Description:

Basic Spectrum Analyzer

Frequency:

7 GHz

Keywords:

N9322, N9322A, N9322B, bsa

Model:

N9322C/0B0

Quote Required:

No

Web Meta Description:

Keysight N9322C offers general purpose spectrum analysis, and cost effective stimulus/response measurements up to 7 GHz. Available from TestEquity, an authorized Keysight Distributor.
9 kHz to 7 GHz frequency range
±0.3 dB absolute amplitude accuracy
10 Hz to 3 MHz resolution bandwidth
-152 dBm displayed average noise level (@1 GHz, 10 Hz minimum RBW)
-90 dBc/Hz phase noise
50 dB input attenuator, with 1 dB steps
+11 dBm TOI
2 ms to 1000 s sweep time (span >100 Hz)
Streamlined for straightforward and efficient operation with marker demodulation, one-button optimization, and user-definable soft keys
Supports Keysight U2000 Series and U2020 X-Series USB power sensors for precision amplitude accuracy
Optional One-button power suite: CHP, OBW, ACPR, SEM, and spectrogram make signal measurements simple and intuitive
Optional 7 GHz tracking generator with built-in VSWR bridge, support transmission and reflection measurements
Achieve higher productivity on a smaller budget. That's the challenge you face whether you are fine-tuning a new design, balancing throughput and accuracy on the manufacturing floor, providing maintenance service, or verifying field equipment. It also necessitates that your choice of equipment provides just the right balance between price and performance. The modestly-priced, general purpose Keysight N9322C basic spectrum analyzer (BSA) delivers.
When it comes to spectrum analyzers, the Keysight N9322C BSA defines a new generation of value-priced, general purpose instruments for the 9 kHz to 7 GHz frequency range. Features like proven testing efficiency, best-in-class usability, and the flexibility to adapt to new requirements are just a few of the reasons using the N9322C means you can rely on results.