Chroma 16502 Milliohm Meter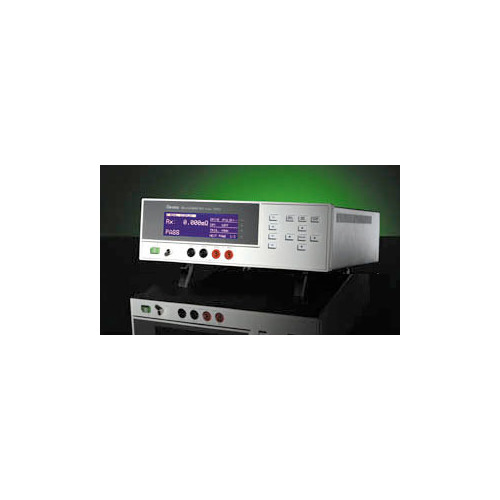 Drill Down Description:

Milliohm Meter

Model:

16502

Web Meta Description:

The Chroma 16502 Milliohm Meter provides measurement range with 4-1/2 digits resolution.

Quote Required:

Yes

Condition:

New

Accessories Sort Priority:

0

Multiple Sale Qty:

1

UNSPSC:

4111000000
Replacement for QuadTech LR2000 Basic accuracy: 0.05% Pulsed test current output mode is used to reduce thermal EMFs affection on milliohm measurement DC test current output mode is used to fasten measurement speed for inductive DUT Dry-circuit test current output mode (limited Max. 20mV) is used to measure such contact resistances where the maximum open-circuit voltage must be limited to 50mV Temperature correction (TC function) regardless of material or temperature Useful temperature conversion function for motor/ coil evaluation 4 channels R scan with balance check function for fan motor (combined with A165017 option) 0.001mΩ-1.9999MΩ wide measurement range with 4-1/2 digits resolution Standard RS-232 interface Optional GPIB & Handler interface Bin-sorting function Comparator and pass/fail alarming beeper function Large LCD display (240 x 64 dot-matrix) Friendly user interface LabView® Driver
The Chroma 16502 Milliohm Meter features 0.001mΩ-1.9999MΩ, 4-1/2 digits resolution, fast (65 ms.) measurement time, and a wide measurement range. The instrument's DC, Pulsed, and Dry-circuit test current driving modes enable the Chroma 16502 to be properly used in DC resistance measurement for various inductive components (coil, choke, and transformer winding etc.), cable, metallic contact (connector, relay switch etc.) and conduction materials.
The Chroma 16502 Milliohm Meter provides three different modes that correspond to different material applications. Pulsed test current output mode is used to reduce thermal EMFs affection on milliohm measurement. DC test current output mode is used to fasten measurement speed for inductive DUT. Dry-circuit test current output mode is used to measure such contact resistances where the maximum open-circuit voltage must be limited to 20mV.
Pulsed ± function application includes power choke, switch/Relay contract, multi-braided twisted wires, metallic foil or conductive material, thermo-sensitive material (fuse, thermistor sensor) etc. Dry Circuit function application includes switch /relay contract, thermo-sensitive material (fuse, thermistor sensor) etc. DC+ function app lication includes high inductance DUT, like primary of transformer (multi-turn) measurement with Measurement Delay Function to avoid the test current not produced that effect by high inductance DUT during test period.
Resistance and Temperature measurement
Using the A165014 Temperature Compensation Card with A165015 PT100 Temperature Probe, resistance values measured at ambient temperature can be corrected by applying a thermal coefficient so that the display shows the corresponding resistance values at any other temperature with temperature correction function. Temperature increase (Δt) is obtained and displayed by converting resistance measurements and ambient temperature with convenient temperature conversion function. This function is especially useful for verifying motor windings or coils, where the maximum temperature increase needs to be determined when current is applied.
Additional time-saving and accuracy-enhancing features:
Temperature Correction Function
Temperature Conversion Function
Front panel menu LCD Display
Dry Circuit
R Scan
Compare

Bin Sorting
Measurement Delay
Trigger Delay
Null Elimination
Averaging
Power Noise Filter
Applications
Production testing of contact resistance of switches, relays, connectors, cables, and other low Resistance Devices
Production testing of various inductive components (coil, choke, and transformer winding etc.)
Testing of low value resistors, fuses, squibs, and heating elements
Winding resistance of motors, transformers, solenoids, and ballasts
Conductivity evaluation in product design
Incoming inspection and quality assurance testing
Standard RS-232 interface, optional GPIB & Handler interface, high speed and stable measurement capabilities allow the Chroma 16502 to be used for both component evaluation on the production line, and milliohm measurement for bench-top applications.