Hioki RM3544 Resistance Meter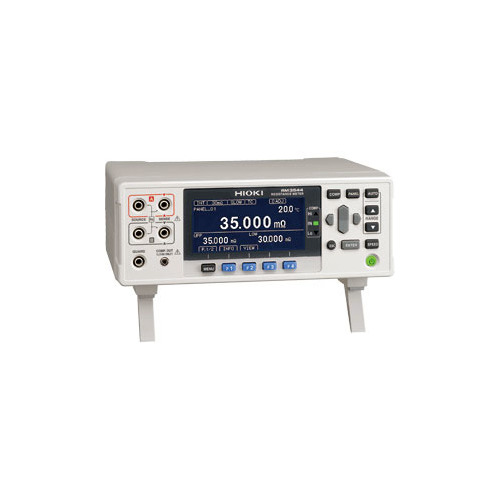 Drill Down Description:

Resistance Meter

Model:

RM3544

Web Meta Description:

Shop here for the Hioki RM3544 Resistance Meter plus the other tools & supplies. With unmatched product selections, TestEquity offers everything you need to get the job done.

Quote Required:

No

Condition:

New

Accessories Sort Priority:

0

Multiple Sale Qty:

1

UNSPSC:

4111000000
Designed for testing electronic components, coils and inductors 0.000 mΩ to 3.5 MΩ 4.5 digits -10.0 to 99.9°C Optimized for production line use Accuracy of up to 0.02% with enhanced noise resistance Compact, space-saving design PASS/FAIL results with sound and light EXT I/O interface with NPN/PNP support can accommodate a variety of automated production lines (RM3544-01) One-year warranty
The RM3544 Series is designed primarily to be embedded in automatic testing systems on production lines as well as for use on manual lines where technicians make measurements directly.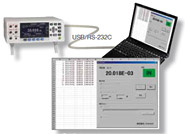 RM3544-01: USB or RS-232C options
The RM3544 and RM3544-01 use a measurement current of up to 300 mA and have guarded terminals, decreasing the effects of noise on measured values. Additionally, these instruments are capable of high-accuracy — with a measurement accuracy of up to 0.02%.
The RM3544 and RM3544-01 boast a footprint that is 25% smaller than the instrument they replace, the popular HIOKI 3540. Their compact design frees up space when integrated in a production line, increasing the degree of freedom with which equipment can be laid out.
Resistors are subject to PASS/FAIL tests before shipment. Used in this type of application, the RM3544 and RM3544-01 can indicate the test results with a loud sound and bright light. The optional LED Comparator Attachment further boosts work efficiency by allowing operators to assess results simply by looking down at their hands rather than at the instrument's screen.
Included with RM3544: Power cord, one (1) L2101 Clip Type Lead, instruction manual, extra fuse. RM3544-01 also includes one (1) male EXT I/O connector, application disc , and one (1) USB cable (A-to-B type).