Hioki RM3548 Resistance Meter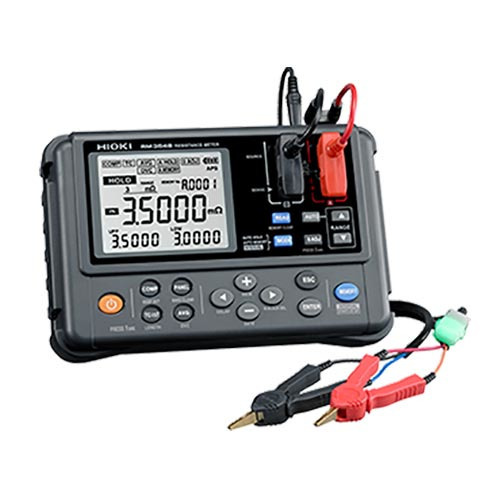 Drill Down Description:

Resistance Meter

Model:

RM3548

Web Meta Description:

Hioki RM3548 is a portable solution for measuring resistance values ranging in magnitude from microohms to megohms.

Quote Required:

No

Condition:

New
Measure from 0.0 uOhms (at 1 A) to 3.5 MOhms
-10.0 to 99.9 deg C
Easily record up to 1,000 data points in memory with the instrument's probes
Smoothly capture temperature-rise test data using interval measurement
Portable design is ideal for maintenance and testing of large equipment
Interval measurement capability: Ideal for temperature testing of windings
One-year warranty
Hioki RM3548 Resistance Meter presents a portable solution for measuring resistance values ranging in magnitude from microohms to megohms, making it ideal for use in production, maintenance, repair and operation of large equipment.
The RM3548 features a portable design that allows it to be used not only in the production, maintenance, and inspection of large coils, motors, and transformers, but also in applications such as the testing of electric vehicles, hybrid vehicles, and aircraft. Despite a portable, battery-powered design, the instrument is capable of highly reliable measurement thanks to a measurement current of 1 A, a maximum measurement accuracy of 0.02%, and a measurement range of 0.000 mΩ to 3.5000 MΩ.
Components known as windings, which are used internally in equipment such as motors and transformers, must be tested for temperature changes to verify that they do not throw off an abnormal amount of heat when a large voltage is applied. However, because they are located inside motors and other equipment, the temperature of windings cannot be measured directly. Instead, it is typical to use a temperature testing technique in which a resistance value is measured and converted to a temperature.
Since the RM3548 provides an interval measurement function that can take readings continuously at an interval as short as 0.2 seconds, the instrument is ideal for use in temperature testing.
Principle applications include electronic component testing and electric vehicle and aircraft maintenance and management.
Included: One (1) 9287-10 clip type lead, one (1) Z2002 temperature sensor, eight (8) LR6 alkaline batteries, instruction manual, USB cable (A-to-mini B type), strap, and an extra fuse.