Instek GDS-3502 Digital Storage Oscilloscope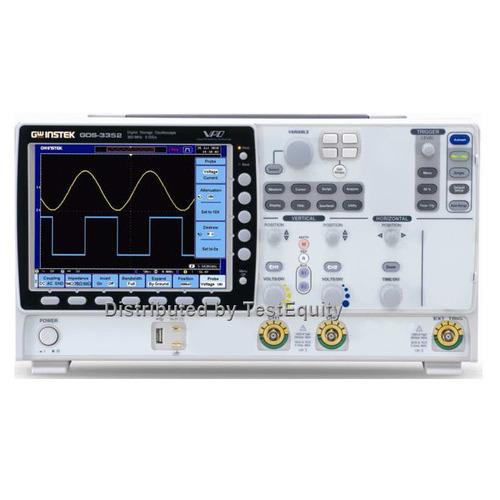 Condition:

New

Drill Down Description:

Digital Storage Oscilloscope

Model:

GDS-3502

Product Code:

Instek

Quote Required:

No

Web Meta Description:

Find the product you need with our Instek GDS-3502 Digital Storage Oscilloscope. We proudly offer best-in-class customer service and will help you find the solutions you need for your business.

S3 Part Number:

21975.1
500/350/250/150 MHz with 2/4 Channels
5G Sa/s RT or 100G Sa/s ET Sampling Rate
25k Points Independent Memory for Each Channel
VPO Technology
Large 8-inch 800x600 TFT LCDDisplay
Split Screen Function
3 Built-in Impedances (50Ω/75Ω/1MΩ)
Power Analysis Software (Optional)
Serial Bus Analysis Software for I2C, SPI and UART (Optional)
3-Year warranty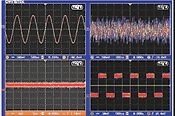 GDS-3000 split screen display
A Hi-tech DSO Platform
The GDS-3000 Series is a new platform of 4-input channels, 500 MHz bandwidth, 5G Sa/s sampling rate, and VPO waveform display. The split screen feature has been designed to meet the requirements of multi-window & multi-signal tests in the research and the manufacturing fields. The optional power analysis software and the optional serial bus analysis software are available to facilitate the engineer's tasks in testing and manufacturing of the associated products.
Complete Set of Trigger Functions
Besides Edge trigger, the GDS-3000 Series also offers various trigger functions, including Video, Pulse Width, Runt, Rise Time & Fall Time (specific time length), Alternate, Delay by Time, Delay by Event, and Hold-Off. The high sampling rate, the VPO signal processing & display, and the flexible trigger function all together make the GDS-3000 Series a powerful tool for waveform capture and display of various types of signals.

Auto Range for Both Time Base and Vertical Scale
The Auto Range function automatically adjusts the time base and/or the vertical scale of displayed waveform when the frequency and/or the amplitude of input signal changed. This function gives user the convenience to have DSO always display waveform in a proper fashion on the screen tracking the frequency and amplitude changes of the input signal. It is especially useful when the user needs to alternately probe and test multiple circuit points containing signals with different frequencies and amplitudes.
GDS-3000 Series Digital Storage Oscilloscopes
GDS-3152
GDS-3154
GDS-3252
GDS-3254
GDS-3352
GDS-3354
GDS-3502
GDS-3504
Channels
2Ch + Ext
4Ch + Ext
2Ch + Ext
4Ch + Ext
2Ch + Ext
4Ch + Ext
2Ch+EXT
4Ch+EXT
Bandwidth
DC to150 MHz (-3dB)
DC to 250 MHz (-3dB)
DC to 350 MHz (-3dB)
DC to 500 MHz (-3dB)
Sampling Rate
2.5 GSa/s
5 GSa/s
2.5 GSa/s
5 GSa/s
5 GSa/s
5 GSa/s
4 GSa/s
4 GSa/s
Memory Length
25k points
Three new differential probes, GDP-025, GDP-050 and GDP-100, as well as new current probes, GCP-005, GCP-020, GCP-100, GCP-530 and GCP-1030, accompany the GDS-3000 Series to provide total solutions for a wide variety of applications in the industry, service and education market sectors. The GDS-3000 Series, a high-tech platform carrying thoughtful features, brings very high customer value to both general purpose market and professional market.
Included: User's manual and Power cord; and
GTP-151R: 150 MHz 10:1 passive probe for GDS-3152/3154 (one per channel)
GTP-251R: 250 MHz 10:1 passive probe for GDS-3252/3254 (one per channel)
GTP-351R: 350 MHz 10:1 passive probe for GDS-3352/3354 (one per channel)
GTP-501R: 500 MHz 10:1 passive probe for GDS-3502/35054 (one per channel)