Keysight MSOX3024T Digital Storage Oscilloscope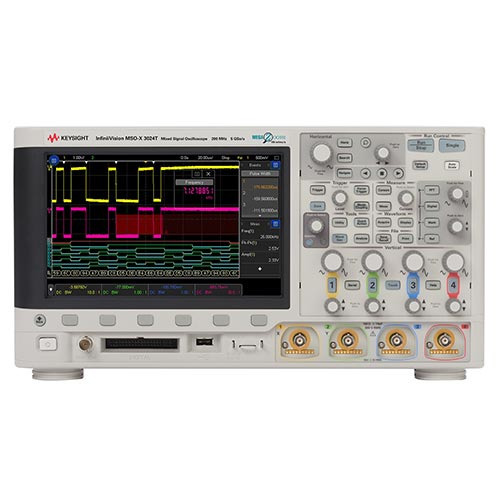 Bandwidth:

200 MHz

Analog Channels:

4

Condition:

New

Digital Channels:

16

Drill Down Description:

Digital Storage Oscilloscope

Keywords:

Keysight, TestEquity, MSOX3024T, Mixed Signal Oscilloscope, Oscilloscope

Model:

MSOX3024T

Quote Required:

No

Web Meta Description:

Keysight 200 MHz MSOX3024T mixed signal oscilloscope delivers capacitive touch screen and zone triggering.
200 MHz bandwidth
4 analog channels + 16 digital channels
Sample rate: 5 GS/s
4 M of memory with segmented smart memory
See more signal detail with industry-leading 1M wfms/s update rate
8.5 inch capacitive touch display
Zone touch trigger + standard trigger modes
Speed analysis with correlated 7-in-1 instrument integration
Upgradable
Enhanced frequency analysis
Decode serial busses faster with hardware-based serial analysis options
Extremely low cost of ownership
Keysight InfiniiVision 3000T X-Series oscilloscopes offer our high-end technology in a smaller form factor, with an extremely intuitive touch user interface. With an industry-leading waveform update rate, you can capture elusive glitches and anomalies not possible on other oscilloscopes. Combined with our extensive set of software options and probes, the 3000T X-Series enables you to make measurements you can count on.
Isolate signals in seconds with zone touch triggering
See the most signal detail with 1,000,000 wfms/s update rate
Decode serial busses faster with hardware-based serial analysis options
Test faster with simplified operations and intuitive user interface enabled by an 8.5-inch capacitive touch screen
SOLVE MEASUREMENT CHALLENGES FASTER AND EASIER
The advanced capabilities of the 3000T X-Series will help you test more efficiently:
Performing advanced triggering is as simple as drawing a box with your finger
Easily use zone touch triggering to turn the most complicated triggering into just one step
Get more out of your oscilloscope with 7-in-1 instrument integration - oscilloscope, frequency response analyzer, logic analyzer / mixed signal oscilloscope (MSO), protocol analyzer, WaveGen, voltmeter, and a counter
Setup tests faster with the intuitive touch screen user interface
Protect your investment with full upgradeability at any time for features like bandwidth, instrument integration, and advanced applications
Automate tests and collect data with the standard BenchVue software