Keysight E4980AL/032 Precision LCR Meter - 300 kHz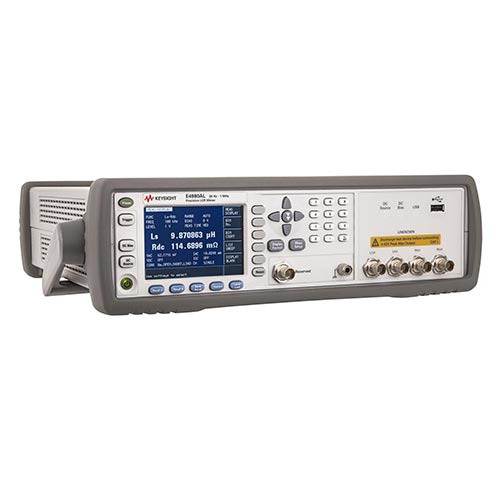 Drill Down Description:

Precision LCR Meter - 300 kHz

Model:

E4980AL/032

Web Meta Description:

Keysight E4980AL precision LCR meter is an industry standard of basic LCR meters.

Quote Required:

No

Condition:

New

Accessories Sort Priority:

0

Multiple Sale Qty:

1

UNSPSC:

4111000000
Option 032 version: 20 Hz to 300 kHz
0.05% basic accuracy with superior measurement repeatability at low and high impedance
16 impedance parameters
4-digit resolution in any range
High-resolution 7-digit LCD display
100 µ Vrms, 1 µA to 20 mA variable test signal
DC bias 1.5 V, 2 V
Fast measurement speed: 12 ms (SHORT), 118 ms (MED), 343 ms (LONG)
Auto-level control
DC resistance
Open/short/load compensation & cable length correction (1/2/4 m)
201 points list sweep
Standard LAN/USB/GPIB interface
Simple and intuitive operation
Three-year warranty
Accurate, Fast Measurements up to 300 kHz/500 kHz/1 MHz
The Keysight E4980AL is the low frequency model of the E4980A precision LCR meter. The E4980AL provides the best combination of accuracy, speed and versatility for a wide range of impedance measurements. Additionally, the frequency upgrades provide a solid investment option and asset utilization.
Providing the Best Combination of Accuracy, Speed and Versatility
The E4980AL features exceptionally low noise at both low and high impedance to improve test quality (e.g. 0.05% basic accuracy, O/S/L compensation, test cable extension), Fast speed and measurement versatility to reduce cost of test as well as to accelerate the development cycle (e.g. 12 ms speed, list sweep, DC bias) and over 20 accessories (e.g. material measurements, SMD/leaded device measurements) to maximize the investments
Stable Small ESR/low Impedance Measurements
The equivalent series resistance (ESR) of capacitors is becoming smaller and smaller to meet high-speed and low power-consumption circuit needs; and is difficult to measure. The E4980AL provides exceptional measurement stability.
Exceptionally Accurate, High impedance Measurements
The capacitance values of chip-capacitors are now down to femto-farad (fF) range. Thus, very stable and accurate high impedance measurements are required for higher yields and design reliability. Surpassing Keysight's previous industry-standard LCR meter (4284A), the E4980AL further improves measurement stability for these small capacitance devices.
Support for a wide variety of test fixtures
The E4980AL can be used with over twenty fixtures to meet a variety of evaluation needs; from materials to SMD components. Also, built-in compensation functions minimize the influence of test fixtures.