Hioki LR8431-20 Data Logger (Memory HiLOGGER)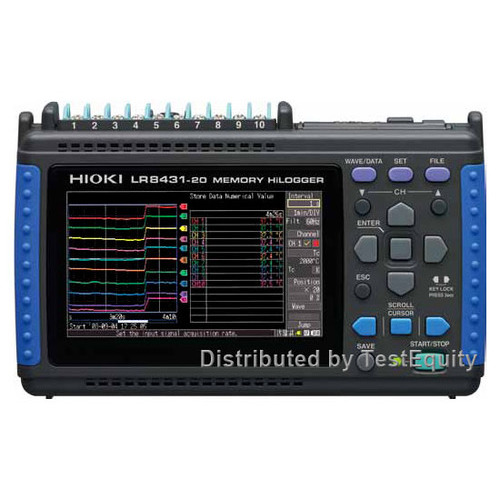 Condition:

New

Drill Down Description:

Data Logger (Memory HiLOGGER)

Model:

LR8431-20

Quote Required:

No

Web Meta Description:

10 CH Voltage &Temperature, 4 CH Pulse Counting. Authorized Hioki Distributor.
Ten isolated analog input channels Record measurement data on a USB drive ro Compact Flash cards Replace storage media during real-time recording Improved thermocouple measurement and reference junction compensation accuracies 10 ms sampling and recording across all channels Noise-resistant measurement circuitry for improved readings Ultra-compact for convenient portability Widescreen, bright LCD gives excellent viewability Replaces Hioki 8430-20
Ten Isolated Analog Input Channels
There's no need to worry about differing potentials of measurement objects when measuring temperature and voltage. All ten analog channels are isolated. Even when measuring temperature and voltage at the same time, interchannel interference and electric shock hazards are eliminated. The four pulse channels are ideal for counting revolution pulses to measure rotation speed.
High-Speed Sampling
Abrupt changes in load need to be measured during development of EV • HV • PHV, for which multi-channel, 10 ms sampling is essential. The LR8431-20 can track waveforms that could not be followed with the 100 ms sampling interval previously available.
Enhanced Noise Suppression
The LR8431-20 employs noise-resistant measurement circuitry for improved readings. Measurement involves the deployment of a deltasigma type A/D converter. Suppress inverter switching noise and line-frequency hum by digital filtering with the LR8431-20's proprietary oversampling technology.
Includes: measurement guide, Z1005 AC adapter, USB cable, and instruction manual, data collection software Logger Utility) CD.