Aim-TTi MX100TP Multi-Range Power Supply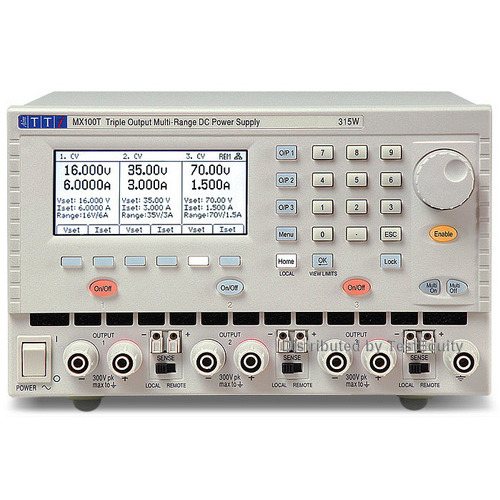 Condition:

New

Drill Down Description:

Multi-Range Power Supply

Model:

MX100TP

Quote Required:

No

Web Meta Description:

If you are searching for a Aim-TTi MX100TP Multi-Range Power Supply, TestEquity can provide the solution you need. We carry the best electronic test & measurement solutions from top manufacturers.
MX100T, MX100TP
Three high performance outputs of 105 watts each 3 x (0 to 35V at 0 to 3A)
Total power of 315 watts in a highly compact package
Range switching gives up to 70 volts and up to 6 amps
Twelve range combinations for maximum flexibility
Up to 210 watts from a single output
Low output noise and ripple via linear final regulation
High setting resolution of 1mV and 0.1mA (output 1)
Variable OVP and OCP trips on all outputs
50 setting memories per output + 50 linked memories
Selectable voltage tracking (isolated tracking)
Selectable current meter averaging
Switchable remote sense on all outputs
Graphic LCD provides simultaneous output metering
Numeric or spin-wheel control of all parameters
Individual or combined output on/off control with programmable delay sequencing.
Front panel locking with optional pass-code protection
3U half-rack case for bench or rack mounting
GPIB, RS-232, USB and LAN (LXI) interfaces (MX100TP)
Three-year warranty
MX Series - A new power supply generation
The MX Series represents a new generation of multiple output laboratory power supplies from Aim-TTi. Offering high power within a compact format they use ranged switched mixed-mode regulation with display and control via a large backlit graphic LCD and soft keys.
Range Combinations
Output 1
Output 2
Output 3
35V/3A
35V/3A
35V/3A
35V/3A
16V/6A
35V/3A
35V/3A
35V/3A
70V/1.5A
35V/3A
16V/6A
70V/1.5A
35V/3A
35V/6A
–
16V/6A
–
70V/3A
16V/6A
35V/3A
35V/3A
16V/6A
16V/6A
35V/3A
16V/6A
35V/3A
70V/1.5A
16V/6A
16V/6A
70V/1.5A
16V/6A
35V/6A
–
16V/6A
–
70V/3A
Three full-performance outputs - 3 x 105 watts
The MX100T/MX100TP differ from most other triple-output power supplies in having three outputs of equal power, each with the ability to provide 35V at 3A. Each output features simultaneous high resolution metering, switchable remote sense, and an individual output switch. Most importantly, two of the outputs can be switched to 16V/6A.
Range switching and power control
To increase its ability to match the widest range of applications, each output of the MX100T has more than one range. Outputs one and two can provide 16V/6A as an alternative to 35V/3A, while output three can provide 70V/1.5A. When higher power is required, outputs two and three can be combined internally to provide up to 210 watts as either 35V/6A or 70V/3A from a single output.
Mixed-mode regulation
To provide its impressive power density the MX series combines high frequency switch-mode pre-regulation with linear post-regulation to offer performance that comes close to that of an all-linear design. Excellent line and load regulation is matched by low noise and good transient response.
Clarity and ease-of-use
The MX100T displays voltage, current and other essential information for all outputs simultaneously using its backlit graphic LCD. The illuminated keypad includes six soft keys via which voltage or current can be instantly set for any output, or which can be used to set up other functions using a menu system. Values can be set numerically direct from the keypad or can be adjusted in a quasi-analog manner using the spin wheel. The front panel can be locked and password-protected.
On/Off Synchronism and Sequencing
A unique capability of the product is programmable on/off sequencing. In addition to the individual output on/off buttons of there are buttons for Multi-On and Multi-Off. By default these turn all three outputs on or off simultaneously, but they can also be set to operate any combination in a user-defined sequence with delays between 10ms and 20s.
A full set of digital interfaces (MX100TP)
The MX100TP provides a comprehensive array of digital interfaces including USB, RS232, GPIB and LAN. Each of the digital bus interfaces provides full control of voltage, current, and output on/off, plus read-back of voltage, current and status. The interfaces are at ground potential and are opto-isolated from the output terminals. An IVI driver for Windows is included. This provides support for common high-level instrument-to-PC connectivity solution.
Bench or rack mounting
The MX100T is housed in a compact half rack width case suitable for use on the bench-top or in a rack. Front input cooling simplifies ventilation within a rack mount. On the MX100TP, output and remote sense terminals are mounted on both the front and the rear panel. The power supply is 3U high and a rack mounting kit is available as an option.