Instek PEL-3031E Programmable D.C. Electronic Load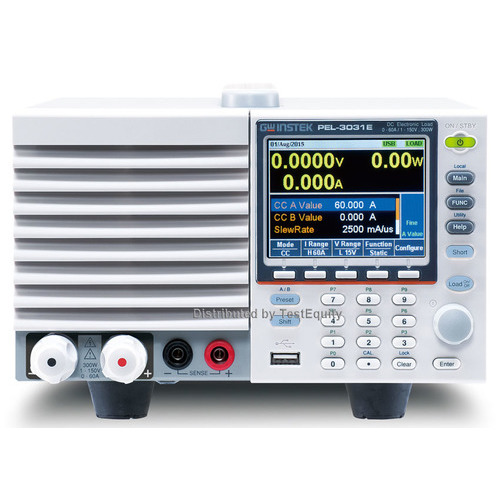 Condition:

New

Drill Down Description:

Programmable D.C. Electronic Load

Model:

PEL-3031E

Product Code:

Instek

Quote Required:

No

Web Meta Description:

Instek PEL-3031E provides 300 Watts (1V - 150V/60A) current sink capability.

S3 Part Number:

26167.1
Single-channel, 300 W, 1 to 150 VDC, 60A
7 Operating Modes: CC, CV, CR, CP, CC+CV, CR+CV, CP+CV
Fast/Normal Sequence Function
Soft Start
Battery discharge test
OCP - OPP test Automation
Max. Slew Rate: 2.5A/us
Dynamic mode
Protection: OVP, OCP, OPP, OTP, RVP, UVP
Remote Sense
Integrate voltage, current and power measurement functions
External Voltage or Resistance Control
Rear Panel BNC Trigger IN/OUT
Analog External Control
USB interface standard; GPIB optional
Two-year warranty
Ideal for output characteristics evaluation for power supply products
PEL-3031E provides 300W (1 to 150 V, 60 A) current sink capability. Inherited from the PEL-3000 series, PEL-3031E has an easy-to-read LCD panel and user-friendly interface. It also features high speed and accurate measurement capability for electronic component, battery, portable charger and power products that require low to medium power consumption.
The PEL-3031E has seven operating modes. Among them, four basic operating modes are constant current, constant voltage, constant resistance, and constant power. Three other combined operating modes are constant current + constant voltage, constant resistance + constant voltage, constant power + constant voltage. You can select operating modes based upon products' test requirements.
PEL-3031E is not only ideal for charger/adapter manufacturers with the requirements of over 60 mA constant current load and measurement applications, but also for manufacturers of various power supply components and portable charging devices which demand the standby power consumption greater than 60 mA. For manufacturers who require charger/adapter with the constant current load and measurement applications lower than 60mA, we recommend the PEL-3000 series which has three current levels to meet low power consumption application requirements.
Among the PEL-3031E's features:
Operating Mode
The unit provides four fundamental operating modes and three add-on modes of CC (current), CR (resistance) and CP (power) separately combining with CV (voltage). Users can set different drawn current condition under different operating modes such as setting operating range for current sink level, Current Slew Rate, input voltage and current sink.
Static/Dynamic/Sequence mode
The PEL-3031E can, according to different test conditions, step or continuous changes, test speeds, and selectable modes, has three operating functions: Static, Dynamic and Sequence. The Static function is used to sink a constant current; the Dynamic function is to periodically switch between two sink conditions; the Sequence function is to provide tests for more than two sink conditions.
Fast Sequence & Normal Sequence
Set a complete sequence editing function to obtain following waveforms, saving development cost and time without using a PC to control electronic load and writing programs.
Soft start
The Soft Start function of PEL-3031E allows you to determine the rise time of current sink that is to decide how much time is required to reach electronic load's set current, resistance or power value. The soft start function prevents inrush current and surge voltage from happening on DUT. For instance, test applications using a power supply, LED and a DC load (activating the soft start function) can prevent in rush current and surge voltage from causing damages on LED.
Analog Channel Control
The PEL-3031E provides the external analog channel control function, which allows you to connect J1 connectors on the rear panel to input voltage or to connect resistance to control electronic load operation, then integrate this function into test system and utilize signals generated from the test system to control the PEL-3031E.
| | | |
| --- | --- | --- |
| PEL-3000E Series | PEL-3031E | PEL-3032E |
| Power | 300 W | 300 W |
| Voltage | 1 to 150 V | 2.5 to 500 V |
| Current | 0 to 60 A | 0 to 15 A |
| Min. operating voltage | 60 A @ 1 V | 15 A @ 2.5 V |
Applications:
Power supply output characteristics evaluation
Battery discharge tests
Electronic component quality inspection
Diode characteristics tests
High voltage solar panel and LED driver tests
Please refer to Data Sheet for complete specifications.
Included with PEL-3031E: Quick Start Guide, user/programming manual CD, power cord, two (2) front terminal washers (M6 Spring washers) and GTL-105A remote sense cables (1 each red & black).