B&K Precision BA6010 60 Volt Battery Analyzer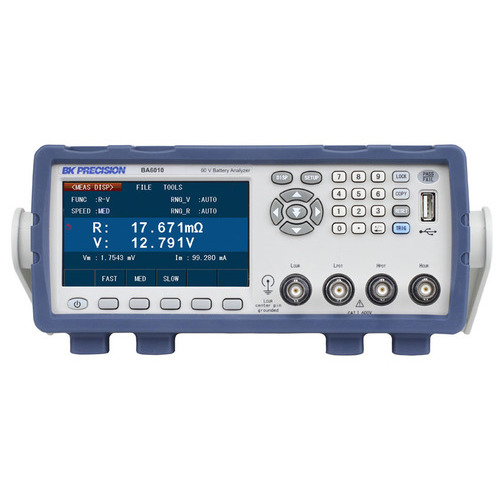 Drill Down Description:

60 Volt Battery Analyzer

Model:

BA6010

Web Meta Description:

B&K 60 volt BA6010 battery analyzer measurement is range ideal for battery cell testing.

Quote Required:

No

Condition:

New

Accessories Sort Priority:

0

Multiple Sale Qty:

1

UNSPSC:

4111000000
Voltage range: 6 V to 60 V
Voltage resolution: 100 μV
4.3 inch color LCD display
Trace function for graphical display of voltage and resistance with on-screen cursor measurements
4-wire kelvin test leads with monitoring of Hi/Low / High and Low drive open faults
Compare and sort using 9 bins with statistical evaluations
Δ% mode for quickly determining the percent difference between batteries
Pass/Fail indicator with audible tone
Fast test speed up to 50 measurements per second to increase manufacturing throughput
Trigger modes internal, manual, bus and external
100 internal and external storage locations for setup and screen save
Handler interface for easy integration with a component handler or integration with PLC
Standard RS232, USB (USBTMC and virtual COM) interfaces
Three-year warranty
Wide range of measurements
The BA6010 battery analyzer measures voltage and resistance of modern battery technologies with high accuracy, resolution, and speed. Additionally, it provides auxiliary measurement parameters inductance, capacitance, dissipation factor, impedance, quality factor, reactance, and phase angle in degrees and radians. Additionally, you can characterize additional parameters such as battery capacitance thus providing additional insight into a battery's condition.
Ideal for Battery Cell Testing
The BA6010 is suitable for characterizing battery chemistries that are responsive to a 1 kHz AC stimulus signal including lead acid, lithium and alkaline type batteries used in consumer products, electric vehicles, power backup, security, and fire alarm systems. Model BA6010 features a 6 V measurement range ideal for battery cell testing.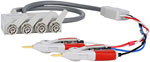 Kelvin clip test fixture
Improved measurement accuracy
The 4-terminals on the front of the BA6010 are used together with the TLKB1 Kelvin clip test fixture (included). This system minimizes the influence of the test lead resistance and improves measurement accuracy.
Binning function
Quickly sort components using up to 9 bins. The bin results are displayed on-screen with each cycle. The handler interface includes dedicated signal pins for each bin, Pass/Fail and end of measurement. The handler interface is suitable for integration with device handler systems or programmable logic controllers (PLC) used in production automation.
Comparator function
The comparator function evaluates measurements against a user specified upper and lower limit for pass/fail (Go/No Go) style testing. Comparative evaluations can be made using primary, secondary or both measurements. The front panel PASS / FAIL indicator will illuminate and a sounder can be enabled for audible confirmation.
Statistical function
Statistical tools menu The analyzers can perform statistical calculations on the measurements and display the results on-screen.
Trace function
The trace function samples and plots two user-selected measurement readings over a specified time. Enable cursors for viewing plotted values and time stamp information.
Included with BA6010: AC power cord, user's manual (downloadable), 4-Wire Kelvin Clip Test Fixture (TLKB1), test report and certificate of calibration.