Fluke 9103-C-156 Field Dry-Well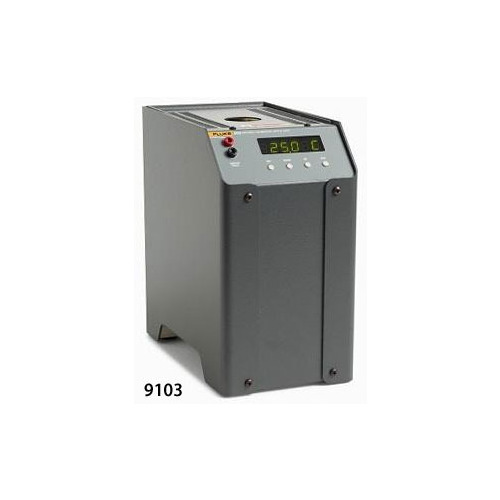 Drill Down Description:

Field Dry-Well

Model:

9103-C-156

Web Meta Description:

Browse through each item you'll need for your task, including the Fluke 9103-C-156 Field Dry-Well. TestEquity offers various delivery options to help meet your deadlines.

Quote Required:

No

Condition:

New

Accessories Sort Priority:

0

Multiple Sale Qty:

1

UNSPSC:

4111000000
Temperature Range:

9103: -25°C to 140°C (-13°F to 284°F)
9140: 35°C to 350°C (95°F to 662°F)

Lightweight and very portable
Accuracy to ±0.25°C
RS-232 and Interface-it software included
Easy to recalibrate
NIST-traceable calibration certificate included
The 9103, 9140 dry block calibrators represent an unbeatable combination of performance, size, weight, convenience, ease of calibration, software, and price. In addition, the heating and cooling rate of each of these dry-well calibrators is adjustable from the front panel, thermal switches can be checked for actuation testing, and multiple-hole inserts are available for a variety of probe sizes. And, they're easy to calibrate. You don't even have to open the case. This means less maintenance costs and less down time when a dry well does need calibration.
The 9103 covers below-ambient temperatures as low as -25°C. The 9103 is stable to ±0.02°C, and its display is calibrated to an accuracy of ±0.25°C at all temperatures within its range. In just eight minutes, 0°C is reached, and 100°C is reached in six minutes, so your time is spent calibrating — not waiting.
The 9103 reaches temperatures 50°C below ambient, so -25°C is reached under normal ambient conditions. The 9103 does not require you to work in a walk-in freezer to achieve its full advertised range.
Choose one of three removable inserts sized for probes from 1/16 inch to 1/2 inch in diameter. Insert A handles a full range of probe sizes with a single well of each size. Insert B features two wells each of 3/8, 1/4, and 3/16 inches in diameter for doing comparison calibrations. Insert C has six 1/4-inch-diameter wells for multiple probe calibrations, and Insert D has three pairs of metric sized wells.
Interchangeable Insert Options


Please see Pricing Table for options' specifications.
The 9140 has a temperature range of 35°C to 350°C, and it reaches its maximum temperature in 12 minutes. At six pounds, it's small enough to easily carry in one hand. It's truly a unique innovation in dry-wells.
The 9140 has a stability of ±0.05°C or better and a uniformity of at least 0.4°C in the largest-diameter wells and 0.1°C in the smaller wells. Despite its small size, this unit performs.
Use the display, calibrated to ±0.5°C, as your reference, or use an external thermometer for maximum calibration accuracy. With three removable inserts to choose from, the 9140 is as versatile as it is fast.