Chroma 63003-150-40 DC Electronic Load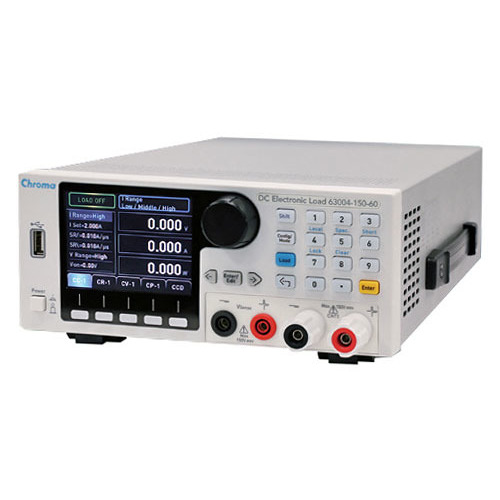 Drill Down Description:

DC Electronic Load

Model:

63003-150-40

Web Meta Description:

Shop here for the Chroma 63003-150-40 DC Electronic Load plus the other tools & supplies. With unmatched product selections, TestEquity offers everything you need to get the job done.

Quote Required:

Yes

Condition:

New
63003-150-40: 150V / 40A / 250W 63004-150-60: 150V / 60A / 350W
CC, CR, CV & CP operation modes
User-defined waveforms (UDW)
CZ mode for turn on capacitive load simulation
Real time power supply load transient response simulation
User programmable 100 sequences via front panel
High precision voltage & current measurement
Voltage, current & Pmax measurement for OCP/OLP test
Timing & discharging measurement for batteries
Short circuit simulation and smart fan control
Full protection: OC (adj.), OT, OP (adj.) protection & OV warning, polarity reverse alarm
Standard USB, optional Ethernet and GPIB interfaces
Benchtop Static / Dynamic DC Electronic Load
The 63000 series programmable DC electronic loads are reliable, precision instruments primarily designed to test switching power supplies, A/D power supplies, power electronic components, adapters, 3C batteries and chargers. The 63003-150-40 and 63004-150-60 have 250W and 350W power levels respectively, with up to 60A in a single unit. Their compact and light weight design make these loads easy to move around which is ideal for R&D and design validation.
User-Defined Waveform (UDW)
The conventional way of loading a current waveform is through DAQ cards or function generators. The 63003-150-40 and 63004-150-60 have unique user-defined waveform (UDW) function capable of simulating real-world custom waveforms. Each load is capable of storing up to 10 sets of waveforms with each containing up to 1.5 million data points in the built-in flash memory. It also provides voltage peak measurement during actual loading conditions avoiding the need for an oscilloscope which saves time and cost.
CZ Mode
To avoid charging the motherboard capacitors when the switching power supply powers on with surge current triggering the power supply over current protection mechanism making the power supply fail to turn on successfully, the power supply requires conducting a turn on capacitive load test. The 63000 series provides CZ mode for turn on capacitive load simulation to tackle this testing demand. CZ mode simulates the actual inductance, impedance and capacitance for loading making the load current closer to real conditions.
Three Ranges and High Precision Measurement
The 63000 series has three power ranges that can precisely measure the voltage and current in real time. Since short circuit testing is a critical test item, the 63003-150-40 63004-150-60 and provide short circuit simulation to effectively address application demands for power and automated testing.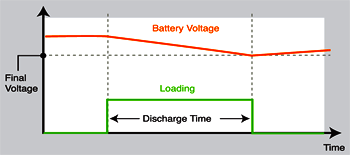 63000 Series Battery Discharge Power (WH & AH) Calculation
Battery Discharge Testing
Three discharge modes: CC, CR and CP
Set cut off voltage and time (1 to 100,000 sec.) to stop loading and ensuring the battery is not damaged due to over discharge
Measures the battery discharge power (WH, AH) and total discharge time
Applies to super capacitor for discharge time testing and other related applications
Additional 63000 Series features:
Static Load
The 63003-150-40 and 63004-150-60 electronic loads operate in constant voltage, current, resistance, power or impedance modes to satisfy a wide range of test requirements
Dynamic Load
The 63000's programmable parameters: Current high/low level, T1/T2, rise minimum response time is 20μs — suitable for testing D/D converters
Program Sequence
The 63003-150-40 and 63004-150-60 have have a program sequence function for various load condition simulations. The minimum dwell time is 100μs — appropriate for battery discharge (NPC, electric car, and electric locomotive, etc.) as well as switching power supply mixed load modulation.
User-defined Hot Key Design
You can define five sets of hot keys to facilitate accessing operation mode quickly
Graphical Operation Software
User-friendly software controls all functions of the 63000 loads and is easy to understand and operate. The 63000 series can be controlled via standard USB or optional GPIB/Ethernet interface for remote control and automated testing applications.
Over Current & Over Power Testing
Set to test overcurrent and overpower protections and verify results without an oscilloscope
In addition to Over Current and Over Power protections, the 63000 series Electronic Loads have over temperature protections and polarity reverse alarms to improve product reliability. These DC loads are reliable, precision instruments ideal for design validation testing and automated test system integration.