Aim-TTi QL355T SII Series II Triple Output DC Power Supply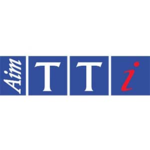 Aim-TTi QL355T SII Series II Triple Output DC Power Supply
26761.2
MFG #: QL355T SII
0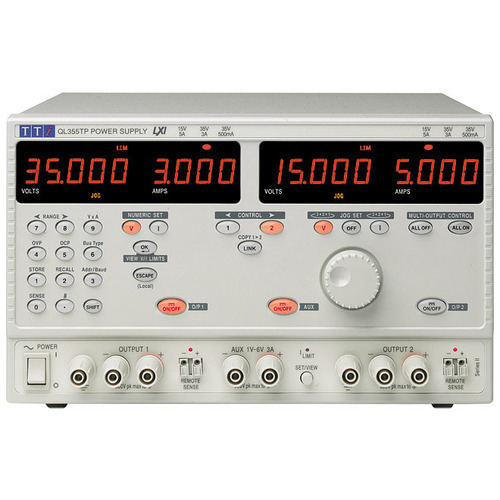 Drill Down Description:

Series II Triple Output DC Power Supply

Model:

QL355T SII

Web Meta Description:

If you are searching for a Aim-TTi QL355T SII Series II Triple Output DC Power Supply, TestEquity can provide the solution you need. We carry the best electronic test & measurement solutions from top

Quote Required:

No

Condition:

New

Accessories Sort Priority:

0

Multiple Sale Qty:

1

UNSPSC:

4111000000
QL355T, QL355TP Series II
228 Watts: 2 x 0 to 35V, 0 to 3A or 0 to 15V, 0 to 5A And 1 to 6V, 3A Aux. output
Auxiliary output fully variable 1.00V to 6.00V at 3A with selectable voltage and current metering
Very high precision, very low noise, excellent dynamics
Advanced user interface with numeric and rotary control
Multiple non-volatile memories for power supply set-ups
Switchable remote sense provides perfect load regulation
Comprehensive protection including OVP and OCP trips
Compact bench footprint; modular width for rack mounting
Bus programmable via USB, RS232, GPIB or LAN (QL355TP)
LAN interface is LXI compliant (QL355TP)
Duplicate power and sense terminals at rear (QL355TP)
Exceptional precision
The QL355T and QL355TP offer unparalleled precision. Voltage and current are controlled using instrumentation quality 16 bit DACs enabling voltages to be set to 1mV resolution even at full output voltage. Indeed, the accuracy is sufficient for the QL355T to be used as a calibration source for some hand-held DMMs.
Multiple ranges for greater flexibility
The QL355T is a triple-output 228W PSU. The main range offers 2 x 0 to 35 volts at up to 3 amps. The higher current range provides up to 5 amps for voltages up to 15V. In addition, there is an auxiliary output at up to 6 volts at 3 amps.
Unrivaled performance
The QL355T/QL355TP use pure linear technology and offers unrivaled performance in terms of regulation, output noise and dynamics.
Line and load regulation are close to the limit of measurement. Recovery time from transient current pulses is better than 50μs.
Differential output noise is less than 350μV RMS in CV mode and down to 20μA RMS in CI mode. Of equal importance for critical applications in areas such as telecoms is common mode noise current (the noise current flowing between the output terminals and ground). This is less than 4μA RMS on the QL355T and QL355TP.
Fast, simple and safe to use
The user interface of the QL355T/QL355TP have been painstakingly designed to provide rapid control whilst guarding against any possibility of error. Unlike other digitally controlled units, theses provide both numeric and rotary control. Illuminated keys and display legends provide instant confirmation of settings and status. Voltage and current setting can be performed in either of two ways:
Direct numeric entry
Settings can be made by direct numeric entry using the 0 to 9 keypad. Each new setting is previewed on the display and must be confirmed with the OK key. Settings recalled from memory are similarly previewed and confirmed. Numeric setting is very fast requiring only three key presses to set to 5 volts, for example, (V, 5, OK). To set a more precise level such as 12.725 volts requires more key presses, but can still be done in seconds.
Incremental rotary control
For those preferring quasi-analogue control, or for applications where the voltage or current must be gradually changed, the Jog Wheel is available. The wheel has a positive stepped action but can be spun rapidly when required. Output voltage can be incremented or decremented in steps of 0.1V, 10mV or 1mV. Current steps can be selected from 0.1A down to 0.1mA. The Jog function can be left permanently engaged or can be disabled at the touch of a button.
Auxiliary output for low voltage circuits with linked mode convenience
QL355T and QL355TP Series II triple output supplies have two main outputs plus one auxiliary output. The third "auxiliary" output intended for powering logic and other low voltage circuitry. This output is fully isolated from the main outputs and provides a fully variable voltage of between 1.00 and 6.00 volts at a current of up to 3 amps. On QL355TP, voltage and on/off status are bus controllable, and output current and status can be read-back. And, unlike the main outputs which are pure linear, the auxiliary output incorporates a switch-mode down converter. In Linked Mode illuminated keys selects which output is to be adjusted and provide unambiguous indication. In situations where the user wishes to set similar voltages or currents on both outputs, "linked" mode is available. When linked, all adjustments are applied to both outputs simultaneously. Linked mode can provide tracking outputs and is particularly useful when the user wishes to wire the outputs in series or parallel to obtain higher voltages or currents. A "copy" function allows all of the settings of one output to be duplicated on the other prior to linking. For even greater flexibility, the outputs can be linked when set to different voltages or currents allowing separate settings to be loaded into the linked mode memories for simultaneous recall.
Setting memories for added convenience
The QL355 provides storage of up to 50 power supply sets-up in nonvolatile memory. Voltage, current, OVP and OCP are all saved. An further power-down memory is also incorporated. Upon mains switch-off, the set-up of the PSU is saved and is automatically restored at switch-on. On the triple output models, independent memories are provided for each output, plus an additional set for 'linked' mode where the user may wish to recall settings for both outputs simultaneously.
Safety binding-post terminals


All QL series power supplies are fitted with the new TTi-designed output terminals. As well as acting as conventional binding posts for bare wires, spade connectors, or standard 4mm plugs, these can accept a 4mm safety plug with rigid insulating sleeve, a requirement specified by an increasing number of laboratories for safety reasons. Limited opening length combined with raised insulated shoulders also make these terminals "touch proof" for voltages up to 250V.
Remote or local sense
The QL355T/QL355TP provide full remote sense capability via dedicated sense terminals. Remote sense is essential to maintain regulation at the load (two 0.01 Ohm connection leads will drop 100mV at 5 amps). When remote sense is not required, internal local sensing can be selected at the touch of a button.
| | |
| --- | --- |
| Bench and System use | |
The QL355TP includes all of the manual control features plus comprehensive digital interfaces and rear terminals. All power supply settings can be controlled via the bus. Voltage and current can be set to a resolution of 1mV or 0.1mA for each main output, and to 10mV for the auxiliary output. A comprehensive array of interfaces is provided on the QL355TP: RS-232, USB, GPIB and LAN (Ethernet) with LXI support. Each of the digital bus interfaces provides full control of voltage, current, and output on/off, plus read-back of voltage, current and status. The interfaces are at ground potential and are opto-isolated from the output terminals.
The GPIB interface is compliant with IEEE-488.1 and IEEE-488.2. Currently GPIB remains the most widely used interface for system applications
RS-232/RS-423 interface is provided for use with legacy systems. This type of serial interface remains in common usage and is perfectly satisfactory for the control of power supplies because data speed is not an issue
USB provides a simple and convenient means of connection to a PC and is particularly appropriate for small system use. A USB driver is provided which supports legacy as well as current Windows versions.
The LAN (Ethernet) interface uses a standard 10/100 base-T Ethernet hardware connection with ICMP and TCP/IP Protocol for connection to a Local Area Network or direct connection to a single PC. This interface supports LXI and is highly appropriate for system use because of its scalable nature and low cost interconnection. The LAN interface is compliant with LXI-C. LXI (LAN extensions for Instrumentation) is the next-generation, LAN-based modular architecture standard for automated test systems managed by the LXI Consortium, and is expected to become the successor to GPIB in many systems. For more information on LXI and how it replaces GPIB, or operates along side it, go to: www.aimtti.com/go/lxi
An IVI driver for Windows is included with QL355TP. This provides support for common high-level applications such as LabView, LabWindows, and HP/Agilent VEE
Compact design for bench or rack
The QL355T, QL355TP Series II Precision DC Power Supplies are highly compact with a small footprint for bench use. Fold-away feet are incorporated which can be used to angle the front panel upwards, and are one-third rack width. A universal rack mount tray is available which will mount one triple, or one triple plus one single. Rear output terminals are provided for QL355TP for system use.