Chroma 19055 Guardian Hipot Analyzer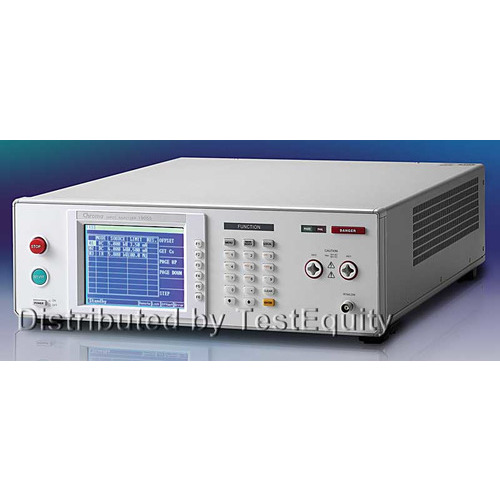 Condition:

New

Drill Down Description:

Guardian Hipot Analyzer

Model:

19055

Quote Required:

Yes

Web Meta Description:

Find the product you need with our Chroma 19055 Guardian Hipot Analyzer. We proudly offer best-in-class customer service and will help you find the solutions you need for your business.

S3 Part Number:

26867.1
Replacement for QuadTech Guardian 500VA Plus 5 kV AC, 6 kV DC Hipot 500 VA output rating Floating output complies with EN50191 Corona Discharge Detection (CDD, optional) Flashover Detection Discharge Level Analysis (DLA) Open Short Check (OSC) High Frequency Contact Check (HFCC) Ground Fault Interrupt Standard RS-232 interface Optional GPIB and Handler interface Key lock when fail Programmable voltage & test limit Supports A190301 8 Channel HV Scanning Box CE Mark
The Chroma 19055 and 19055-C Hipot Analyzers are designed for hipot tests and analysis. AC/DC Hipot and Insulation Resistance can be programmed to 5 kV/100 mA with 500 VA output which complies with the EN50191 requirements.
Functions
Hipot

AC 5 kV/100 mA
DC 6 kV/20 mA

Insulation Resistance

1 MΩ to 50 GΩ
Test voltage up to 5 kV
Applications
Motor: The 19055 and 19055-C Hipot Analyzers with 500 VA output rating can be used to test and analyze the withstand voltage of high power and leakage current for products like motor starters and rotors with high parasitic capacitance. Corona detection can be used for turn-to-turn or turn-to-ground test to avoid winding insulation failure from corona discharge.
Transformer: When using a power transformer under the normal voltage, a primary-side corona discharge could cause the adjacent components to be damaged. Thus, Corona Discharge Detection (CDD) of the 19055-C can be used to detect discharge and improve the product quality.
High Voltage Capacitor, Photocoupler & Insulation Material: During manufacturing, gaps, voids or impurities can adversely affect insulation capability. The Corona Discharge Detection (CDD) technology in the 19055-C will detect corona discharge, allowing R&D engineers to detect components with poor insulation.
Corona Discharge Detection (CDD): The 19055-C not only has the AC/DC/IR tests, but also a new measurement technology - Corona Discharge Detection(CDD). CDD can detect the following via the Discharge Level Analysis (DLA):
• Corona discharge Start Voltage (CSV)
• Flashover Start Voltage (FSV)
• BreakDown Voltage (BDV)