Keysight E36105B 0EM 903 DC Power Supply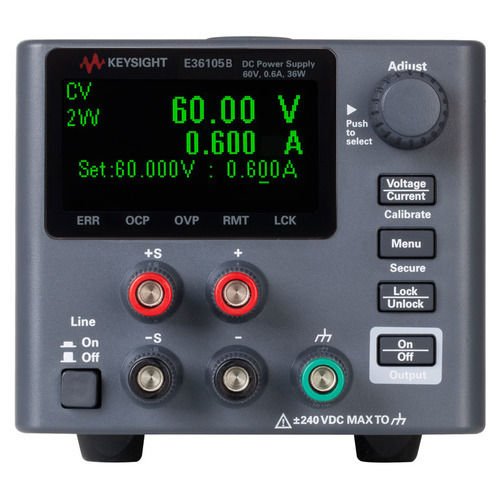 Amps:

0.6

Voltage:

60

Watts:

36

Condition:

New

Drill Down Description:

Dc Power Supply

Model:

E36105B 0EM 903

Quote Required:

No

Web Meta Description:

Browse through each item you'll need for your task, including the Keysight E36105B/0EM/903 Programmable DC Power Supply. TestEquity offers various delivery options to help meet your deadlines.
60 V, 0.6 A, 36 W, single-output
Compact, 2U 1/4-rack form factor
Standard LAN (LXI Core) and USB connectivity
Perform manual tasks quickly with the intuitive on-screen menu system
Easily view high-contrast OLED displays from anywhere on your bench, even from a sharp angle
Protect your device under test (DUT) with overvoltage and over-current detection
Power your DUT with confidence through excellent accuracy in programming and readback
Quiet operation
Bottom panel switches allow configuration to operate on 100, 115 or 230 volts
Three-year warranty
Drop-in replacement for E36105A
Accurate, Reliable Power
The E36100B Series is the latest addition to Keysight's industry standard family of bench power supplies, backed with Keysight's standard 3-year warranty. The 36 watt E36105B will power your device under test with excellent voltage and current programming and readback accuracy. This power supply's highly accurate low-current measurement feature will protect your DUT with built-in overvoltage and overcurrent protection, and built-in overtemperature protection to keep your power supply safe.
Excellent Front-Panel Usability
The clean design of the E36105B front-panel lets you become productive with the unit very quickly. The easy-to-use rotary knob and keypad interface allows you to set the output at your desired resolution quickly and easily, with digit-by-digit control. You can store and recall up to ten complete power supply setups from non-volatile memory in order to quickly change instrument states. The output on/off key quickly turns the output on and off.
Fast, Industry-Standard Programming
The E36105B ships standard with both LAN (LXI Core) and USB (TMC488). The easy-to-use SCPI (Standard Commands for Programmable Instruments) programming language lets you create fast and simple programs with transient response faster than 50 ?s and fast command processing time– less than 10 ms. You can also program the instrument with the power supply's Interchangeable Virtual Instruments (IVI) driver. Use the Keysight IO Libraries Suite (www.keysight.com/find/iosuite) to accelerate your programming. The IO Libraries' instrumentcentric view and auto-discovery of instruments get you connected to your instrument quickly.
Simple, Powerful Soft Front Panel
When you cannot be near your DUT, open your browser and control the instrument via the power supply's bullt-in Web interface, with a look and feel that replicates the front-panel experience.
Easy Power and I/O Connection
Connect for computer control with standard LAN (LXI Core) and USB connectivity. Use the security slot to keep the supply on your bench.
BenchVue Control and Visualization
BenchVue software for the PC makes it simple to connect, control, and view Keysight power supplies simultaneously with other Keysight bench instruments without programming. The power supply app within BenchVue lets you control power supplies, visualize voltage and current output, log data, and annotate captured data. Use the companion BenchVue Mobile app to monitor and respond to long-running tests from anywhere.