Rohde & Schwarz ZNLE3.53 Vector Network Analyzer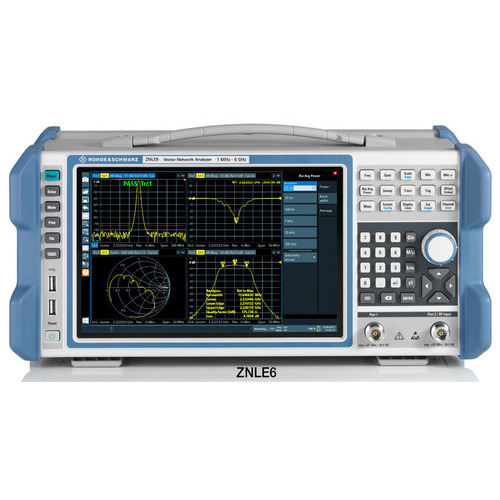 Drill Down Description:

Vector Network Analyzer

Model:

ZNLE3.53

Web Meta Description:

Shop here for the Rohde & Schwarz ZNLE3.53 Vector Network Analyzer plus the other tools & supplies. With unmatched product selections, TestEquity offers everything you need to get the job done.

Quote Required:

No

Condition:

New

Accessories Sort Priority:

0

Multiple Sale Qty:

1

UNSPSC:

4111000000
ZNLE3: 1 MHz to 3 GHz, ZNLE6: 1 MHz to 6 GHz
Two ports
Full S-parameter test set for bidirectional measurements on passive components
Wide dynamic range of up to 120 dB (typical)
Measurement bandwidths from 1 Hz to 500 kHz
Fast measurements, i.e. 8.7 ms for 401 points (100 kHz IFBW, 200 MHz span, corrections off)
Compact size (depth 24 cm) and low weight (6 kg)
Standalone instrument with 10.1" WXGA touchscreen
LAN interface standard, optional GPIB
Windows 10 operating system
Three-year warranty
Easy to configure, easy to calibrate, easy to measure
The ZNLE3 and ZNLE6 are two-port vector network analyzers that can be used for bidirectional measurements of S-parameters S11, S21, S12 and S22 on passive components. Their innovative user interface and compact size make them ideal for basic VNA applications. The analyzers are available with a frequency range of 1 MHz to 3 GHz (ZNLE3) or 1 MHz to 6 GHz (ZNLE6). The optional GPIB interface lets you connect a controller to remotely control the analyzer. And, because they are standalone instruments, they do not require an external PC to configure the setup. You can start measuring immediately after you switch on the instrument.
The ZNLE is a compact plug-and-play vector network analyzer
With a fully integrated powerful PC platform running the Windows 10 operating system, the ZNLE is a complete standalone analyzer. The solid-state hard disk delivers fast boot time and the reliability required for demanding applications. Configure measurements right on the ZNLE and save valuable bench space since there is no need for a mouse, keyboard and external monitor. Simply plug in the instrument and start measuring.
Low trace noise with high measurement speed
The ZNLE offers a low trace noise of typically 0.001 dB (at 10 kHz measurement bandwidth). This allows highly accurate, stable and repeatable measurements even at wider IF bandwidths. Using larger measurement bandwidths, the ZNLE can perform faster measurements while still delivering excellent trace stability. And, the ZNLE is up to 10 times faster than similar instruments. With a measurement speed of 9.6 ms for 201 points (100 kHz IFBW, 200 MHz span, full two-port calibration) and fast LAN or IEC/IEEE data transfer, the ZNLE is ideal for your everyday testing needs.
Remote controllable with LAN and GPIB option
The ZNLE can be remote-controlled via the integrated LAN interface. The optional GPIB interface lets you connect a controller to remotely control the analyzer. Data is transmitted bidirectionally on the 8-bit parallel bus. The data measured during a sweep is transferred to the controller while the next sweep is in progress. As a result, the ZNLE has a virtually negligible data transfer time.
Rohde & Schwarz ZNLE VNA user interface

User interface with multi-touchscreen

Wide 10.1" WXGA touchscreen
Perfect for displaying setups and arranging measurements as required by the current application. Simply drag and drop to adapt the layout to your needs.
Clearly structured user interface
Configure measurements in just a few steps. Save, reload and switch between different setups with just a few screen taps.
Undo/redo softkey for user-friendly operation
Cancel and restore measurement configurations and check the influence of a measurement setting and revise it quickly.
Fully integrated context-sensitive help menu
The help button that takes you directly to the relevant section of the user manual.
Calibration units for quick calibration
The R&S®ZNLE calibration wizard in the ZNLE guides you through the calibration process. Manual calibration kits and automatic calibration units are supported. The analyzer's automatic calibration unit minimizes the time needed to perform a full system error correction. It only takes a few steps to calibrate the setup. This is especially an advantage in production environments, helping you save time and maximize throughput.
USD Price valid in USA only.