Yamato ADP-200C Vacuum Oven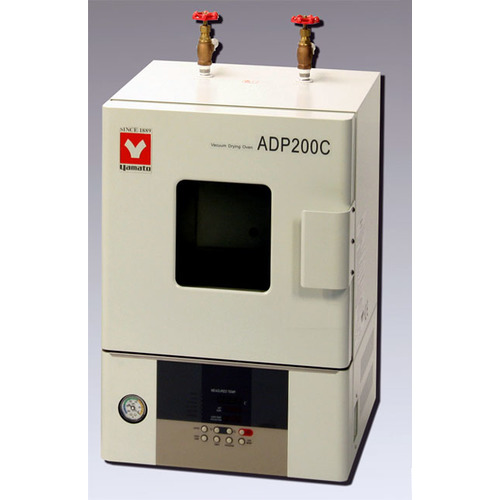 Drill Down Description:

Vacuum Oven

Model:

ADP-200C

Web Meta Description:

Find the product you need with our Yamato ADP-200C Vacuum Oven. We proudly offer best-in-class customer service and will help you find the solutions you need for your business.

Product Code:

chamber

Quote Required:

No

Condition:

New

Accessories Sort Priority:

0

Multiple Sale Qty:

1

UNSPSC:

4111000000
Additional shipping charges will be applied after checkout
Vacuum drying by decompressed chamber direct heating [View]
Easy input of parameters and settings
Operating range: 40°C to 240°C in approximately 70 minutes
Internal dimensions (WxDxH): 200 x 250 x 200mm (0.35 Cu Ft)
Internal capacity: 10L
External dimensions (WxDxH): 400 x 412 x 603mm
Heat insulator: Rock wool
0.68 kW Mica heater
Vacuum port O.D.: 18mm
Temperature controller: PID by microprocessor, adjusted with

▴

&

▾

keys
Self-diagnostic and overheating prevention functions
Sensor: K-thermocouple
Silicon rubber door seal prevents air leakage
Independent over heating prevention device for each circuit
Customizable with N2 gas inlet and communication ports
Calibration off-set function
Easy maintenance
Yamato ADP Series vacuum ovens' safety features include: Sensor trouble detection, SSR, short circuit detection, heater disconnecting detection, memory error, over heating and measurement temperature error.
CA Series Cold Traps
Cold Traps efficiently collect moisture and harmful vapors by trapping them in the container and keeping them from reaching the vacuum pump. Their benefits include:
GLD Series Oil-Sealed Rotary Vacuum Pumps
GLD-136C and GLD-201B feature high performance, low vibration and noise and several functions such as gas ballast valve, oil-back-flow prevention mechanism, and large sized oil level gauge. These pumps equip multi-voltage motor and correspondent to international standard.
Included with ADP-200C, ADP-210C: Two (2) shelf plates (Aluminum perforated metal).