Aim-TTi PL155 DC Power Supply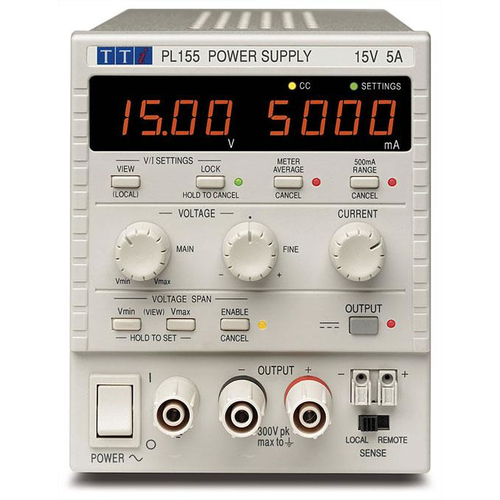 Condition:

New

Drill Down Description:

Dc Power Supply

Model:

PL155

Quote Required:

No

Web Meta Description:

Shop here for the Aim-TTi PL303-P DC Power Supply plus the other tools & supplies. With unmatched product selections, TestEquity offers everything you need to get the job done.

S3 Part Number:

28785.1
75 Watts; 0V to 15V, 0.1mA to 5A
High accuracy four-digit meters
S-Lock digitally locks voltage and current settings
True analog controls make adjustment quick and simple
V-Span enables the full 300° rotation of the voltage control
Safety binding post terminals can accept fixed-shroud 4mm plugs
DC output switch enables voltage and current to be set up before connecting the load
Voltage sensing can be changed between local and remote
Bus programmable via USB, RS232, LAN [PL155-P), GPIB incl. w/ PL155-P(G)]
LAN interface is LXI compliant [PL155-P, PL155-P(G)]
New PL Series: Analog control for a digital world
TTi has engineered an all-new design which retains all the key features and true analog controls of the original PL series, but combines them with new and important features.
Analog controls with digital stability
The main disadvantage of analog controls is stability and security. The settings of analog potentiometers an drift over time. More importantly, the settings can be changed accidentally with potentially serious consequences. The PL155 and PL155-P introduce S-Lock. One press of the Lock button transfers control of voltage and current from the analog controls to internal digital circuitry. This offers not just complete security, but exceptional stability as well with each setting controlled by an instrumentation quality DAC.
Linear regulation for ultra-low noise
Linear regulation still offers the lowest output noise and the best transient response (recovery time from a sudden current step). Most linear regulated power supplies offer low output noise with figures below 2mV RMS being typical. The PL155 and PL155-P goes a stage further and an RMS noise figure of 0.4mV with tightly specified pk-pk noise and common-mode current figures.
Ultra-compact design with higher power efficiency and near-silent cooling
The PL155 and PL155-P achieve an exceptional power density for a linear regulated power supply by offering 75 watts from a 1/4 rack 3U sized casing. This gives it an unusually small bench footprint taking up less space on a crowded bench. For rack-mount application, up to four PL-Series supplies can be mounted into a single slot. Despite their small size and linear regulation, they generate relatively little heat through the use of an advanced phase controlled preregulator. This gives the PL155 and PL155-P significantly higher energy efficiency than conventional linear regulated designs, particularly when supplying lower voltages. The internal heat-sinks use fan-assisted convection cooling in order to remove the heat with minimal fan noise.
Choose a voltage range that suits your task
When working with any particular piece of equipment, you may require a voltage source variable over only a narrow range. Set the voltage too high and damage might occur, set it too low and the circuit may reset. That's where the V-Span function of the New PL series comes in. It allows the you to redefine the end-stop values of the voltage control to define a specific voltage range. For example: you're working on a circuit that will eventually operate from four NiMh cells, use V-Span to set a Vmax of 5.8 volts (to prevent over-voltage damage) and a Vmin of 3.6 volts (to ensure that the circuit doesn't reset). You now have a power supply which provides high resolution analog control over the exact voltage range needed. Vmin and Vmax can be set anywhere between zero and maximum output voltage subject only to Vmax > (Vmin + 0.1V). The fine control gives additional adjustment of ±1%. Once set, the voltage span function can be turned on or off at the press of a button.
Advanced Bus Programmable DC Power Supplies
Interfacing to every application, the PL155-P and PL155-P(G) are bus programmable and includes all of the manual control features of the PL series, but adds comprehensive remote control facilities. The ultra-compact rack-modular sizing makes it ideally suited to rack mounted system applications, while its user-friendly manual controls are retained for bench top applications. Digital Interfaces to meet the varying needs of today's engineers, a comprehensive array of interfaces is provided. RS-232, USB and LAN (Ethernet) with LXI support are provided as standard. Each of the digital bus interfaces provides full control of voltage, current, and output on/off, plus read-back of voltage, current and status. A model (PL155-P(G)) with GPIB interface is also available.
Additional interface options with PL155-P DC Power Supply:
Rear Power Terminals
Power and sense terminals are duplicated on the rear panel for rack mount applications or other situations where rear connection is more appropriate.
Analog voltage control of voltage and current (non-isolated).
RS-232, USB and LAN (Ethernet) with LXI support are included with PL155-P
RS-232/RS-423 interface is provided for use with legacy systems. USB provides a simple and convenient means of connection to a PC
LAN-Ethernet with LXI
The LAN interface uses a standard 10/100 base-T Ethernet hardware connection with ICMP and TCP/IP Protocol for connection to a Local Area Network or direct connection to a single PC. The LAN interface is compliant with LXI-C. Each of the digital bus interfaces provides full control of voltage, current, and output on/off, plus read-back of voltage, current and status. The interfaces are at ground potential and are opto-isolated from the output terminals.
IVI Driver
An IVI driver for Windows is included. This provides support for common high-level applications such as LabView, LabWindows, and HP/Agilent VEE.
GPIB (option G)
PL155-P(G) is fitted with a GPIB (IEEE-488) interface in addition to USB, RS232 and LAN.