Extech IR320 Dual Laser IR Thermometer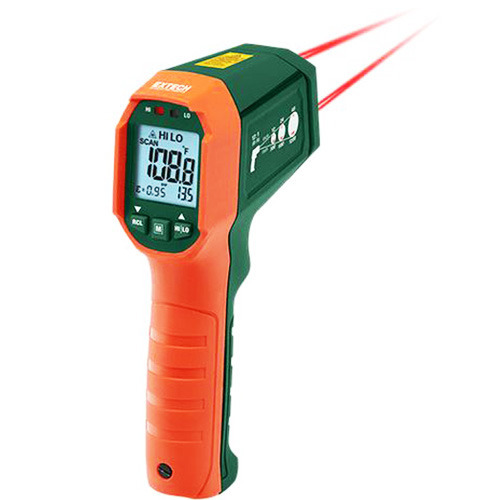 Condition:

New

Drill Down Description:

Dual Laser IR Thermometer

Keywords:

testequity, extech, dual laser ir thermometer, thermometer, ir thermometer, laser thermometer, ir320

Model:

IR320

Quote Required:

No

Web Meta Description:

12:1 Waterproof IR Thermometer with High/Low Alarm. Rugged design with Waterproof (IP65) and 9.8ft (3m) drop-proof protection, Extech IR320 provides fast and accurate temperature measurements up to 12, 12:1 Waterproof IR Thermometer with High/Low Alarm. Rugged design with Waterproof (IP65) and 9.8ft (3m) drop-proof protection, Extech IR320 provides fast and accurate temperature measurements up to 1202°F (650°C).

S3 Part Number:

31020.1
Features:
Measure non-contact temperature up to 1202°F/650°C
High basic accuracy with adjustable emissivity
12:1 distance to spot (target) ratio
Dual laser pointer identifies target area between the two points (~1"/25mm diameter of measured area)
Programmable alarm with visual alert — LCD displays LO with Blue LED flashing when reading falls below Low alarm set point; LCD displays HI with Red LED flashing when reading exceeds High alarm set point
Automatic Data Hold when trigger is released
MAX/MIN/AVG/DIF functions
Waterproof (IP65 rating) with 3m drop-proof protection
Bright backlighting illuminates display for taking measurements at night or in areas with low background light levels
Lock function for continuous temperature measurement without pressing the trigger
Tripod mount (1/4"-20 UNC) for hands-free operation
Auto power off
Low battery indicator
Complete with 9V battery and soft case

12:1 Waterproof IR Thermometer with High/Low Alarm
Rugged design with Waterproof (IP65) and 9.8ft (3m) drop-proof protection, Extech IR320 provides fast and accurate temperature measurements up to 1202°F (650°C). Its dual guided laser shows the target area between the two points at a 12:1 distance to target ratio. It has programmable High and Low Alarms with Red (HI) and Blue (LOW) visual LED alert. The Lock function allows for continuous measurement.