Rohde & Schwarz NGP802 Power Supply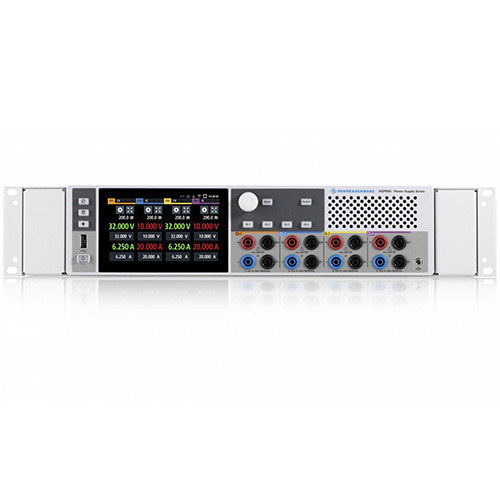 Drill Down Description:

Power Supply

Model:

NGP802

Keywords:

testequity, rohde&schwarz, rohde and schwarz, rohde & schwarz, power supply, quadcore power, ngp800, ngp802

Web Meta Description:

The NGP800 DC power supply series, comprising five models with 400 W or 800 W, provides maximum power at a variety of operating points. The two or four 200 W out-puts can each supply up to 64 V or up

Quote Required:

No

Condition:

New

UNSPSC:

4111000000
2-CH Power Supply 400 W, 32V / 20A
400 W – 2 × 32 V/20 A
The channel outputs are galvanically isolated and not connected to ground.
Maximum voltage in serial operation: 64 V
Maximum current in parallel operation: 40 A
Voltage: <0.01% + 5mV
Rise time: <10 ms
Fall time: Full load: <10 ms, no load: <50 ms
Comprising five powerful models
The NGP800 DC power supply series, comprising five models with 400 W or 800 W, provides maximum power at a variety of operating points. The two or four 200 W out-puts can each supply up to 64 V or up to 20 A. Electrically equivalent and galvanically isolated outputs can be wired in series or parallel for up to 250 V or 80 A.
Synchronizing your outputs, performing waveform tests and logging data for in-depth analysis – all this becomes easy with the R&S®NGP800 power supply series.
An intuitive operating concept and a large touchscreen allow you to enter values much faster and to display statis-tics in realtime. All NGP800 power supplies include remote sense ter-minals, USB and a LAN interface. A user-installable GPIB interface, a digital trigger I/O, an analog input and a wire-less LAN interface are optional, making these instruments great on the bench or in an automated test system.
All models available in this series:
| | |
| --- | --- |
| NGP802 | Two-channel power supply, 400 W, 32 V/20 A |
| NGP804 | Four-channel power supply, 800 W, 32 V/20 A |
| NGP814 | Four-channel power supply, 800 W, 2 5 32 V/20 A, 2 x 64 V/10 A |
| NGP822 | Two-channel power supply, 400 W, 64 V/10 A |
| NGP824 | Four-channel power supply, 800 W, 64 V/10 A |