Anritsu MS2720T/0709 9 GHz Spectrum Analyzer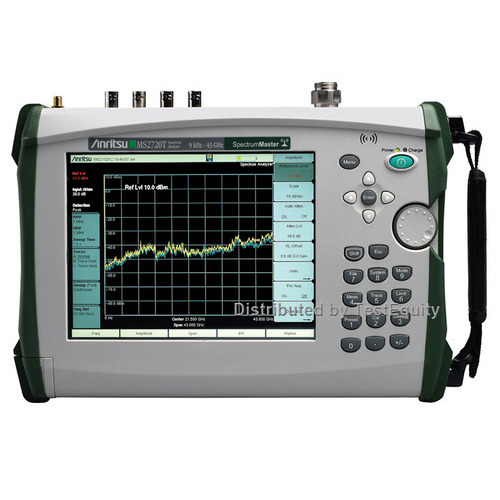 Drill Down Description:

9 GHz Spectrum Analyzer

Model:

MS2720T/0709

Web Meta Description:

Find the product you need with our Anritsu MS2720T/0709 9 GHz Spectrum Analyzer. We proudly offer best-in-class customer service and will help you find the solutions you need for your business.

Quote Required:

No

Condition:

New

Accessories Sort Priority:

0

Multiple Sale Qty:

1

UNSPSC:

4111000000
MS2720T
Frequency Ranges: 9 kHz to 9 GHz, 13 GHz, 20 GHz, 32 GHz and 43 GHz
Measurements: Occupied Bandwidth, Channel Power, ACPR, C/I, Emission Mask, Field Strength
Touch Screen User Interface
3G and 4G Measurement options for LTE, CDMA, W-CDMA, WiMAX, GSM, and TD-SCDMA
Interference Analyzer: Spectrogram, Signal Strength, RSSI, Mapping
AM/FM/PM Analysis
Dynamic Range: > 106 dB in 1 Hz RBW @ 2.4 GHz
DANL: -160 dBm in 1 Hz RBW @ 1 GHz preamp On
Phase Noise: -112 dBc/Hz @ 10 kHz offset at 1 GHz
1 Hz to 10 MHz Resolution Bandwidth (RBW)
Available tracking Generator covering 9 kHz to 9, 13 and 20 GHz
Solid Performance up to 43 GHz
The new T series builds on the ground breaking performance of the MS272xC family with improved sweep speed, broadband preamplifiers over the entire frequency range from 0 to 43 GHz, significantly improved phase noise, GPS tagging for every spectrogram trace, increased battery life, 3.5 mm headset jack, Burst Detect™, and tracking generators to 20 GHz.
Enhanced GUI, Including a Large Marker Display Choice
Using a touchscreen interface, that works even when wearing heavy gloves, the user has access to an options menu which has the capability to put short cuts for frequently used functions on the main menu screen and a virtual keyboard for easily naming saved files. Markers can be dragged along a trace with a gloved finger.
Designed to Meet Virtually Every Measurement Need
The Spectrum Master MS2720T, Anritsu's highest-performing handheld spectrum analyzer features over 30 analyzers in one to meet virtually every measurement need. In addition to a spectrum analyzer, the MS2720T offers several highly-functional options including high-accuracy power meter, interference analyzer, channel scanner, and a GPS receiver. Please refer to the MS2720T Brochure for an in-depth overview of these and other optional capabilities.
Burst Detect™ has been incorporated in the design, allowing users to see bursty signals that are as short as 200 μs in a span up to 15 MHz, making direction finding on such signals much easier and more productive, even if the duty cycle is less than 1%.
The optional GPS receiver is very sensitive and can lock to the GPS network even inside some buildings. Once locked to the GPS network the instrument's time base accuracy is better than 25 ppb and will maintain better than 50 ppb for up to 72 hours after disconnecting the GPS antenna.
Optional full band tracking generators up to 20 GHz provide level output power in the range of 0 to -40 dBm in 0.1 dB steps. Normalization has been improved to allow trace math to be performed when using the tracking generator. Saved tracking generator setups include normalization data, making it easy to continue previous measurements without the need to renormalize.
High-Performance Field Tool
User convenience features, such as a touch screen, serve to make the MS2720T Spectrum Master even easier to use. A brighter display with several user-selectable display choices including high contrast, monochrome, and night-vision red makes the Spectrum Master outstanding in the field. Burst detect is included to simplify finding pulsed interfering signals.
MS2720T Additional Features
Broadband preamplifiers increase sensitivity approximately 17 dB
Three Sweep Modes: improved sweep speed, up to 100 times faster
Resolution and Video Bandwidths from 1 Hz to 10 MHz
New triggering choices, including hysteresis, hold-off, and delay
More zero-span capabilities including 10 MHz RBW & VBW
Normal, black and white, night vision, or high contrast display
On-screen Interference Mapping
LTE Measurements up to 20 MHz
30 MHz wide Zero-Span IF Output at 140 MHz center frequency
Burst detect captures 200 μs bursts the first time, every time

Spectrum Master MS2720T handheld spectrum analyzers: over 30 analyzers in one; 9 kHz to 43 GHz.
Includes: handheld instruments documentation disc, spectrum master user guide (includes bias-tee and GPS receiver), master software tools (MST) CD disc, soft carrying case, high capacity li-ion battery, AC/DC power supply, automotive cigarette lighter 12-volt DC adapter, Ethernet cable, 7 feet/213 cm, USB a-mini b cable, 10 feet/305 cm, MS2720t spectrum master technical data sheet, one-year warranty (including battery, firmware, and software), and certificate of calibration and conformance.