B&K Precision DAS50-T High Speed Multi-Function Recorder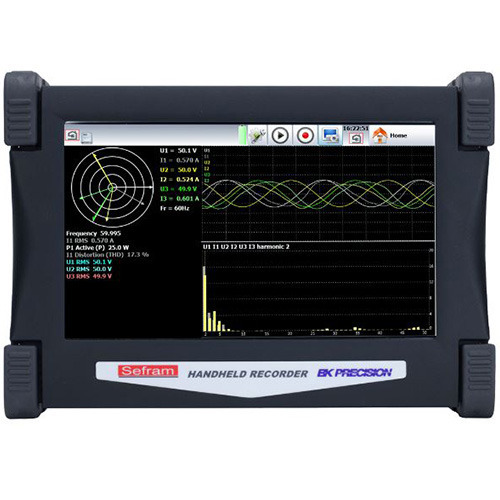 Drill Down Description:

High Speed Multi-Function Recorder

Model:

DAS50-T

Keywords:

testequity, b&k precision, b and k, das50, das50-t, multi-function recorders

Web Meta Description:

The DAS 30/50/60 high-speed multi-function recorders feature versatile channel configurability, high-speed sampling (1 MSa/s), a wide input range (±5 mV to ±500 V), large internal solid-state memory o

Quote Required:

No

Condition:

New

Accessories Sort Priority:

0

UNSPSC:

4111000000
Features and benefits:
Fast 1 MSa/s sample rate (memory mode) and 100 kHz bandwidth for capturing intermittent events
Accurately view and record signals from ±5 mV to ±500 and 424 VRMS
CAT III 600 V rated isolated channels
Wide 10-inch touchscreen TFT display
Capture mixed signals with one instrument, such as high voltage, current waveforms, temperature, and logic data
Battery life up to 9.5 hours
64 GB (DAS60) and 32 GB (DAS30/50) internal solid-state memory
2, 4, or 6 analog input channels
14-bit resolution
16 logic input channels
Temperature measurements supporting thermocouples and Pt100/Pt1000 sensors (factory option on DAS30/50)
2 USB host ports and one LAN interface
110 mm thermal printer (factory option)
Applications:
Measure signals ranging from small sensors to large electrical systems
Maintenance and failure analysis
Power analysis of single and three-phase systems
The DAS 30/50/60 high-speed multi-function recorders feature versatile channel configurability, high-speed sampling (1 MSa/s), a wide input range (±5 mV to ±500 V), large internal solid-state memory of up to 64 GB, and 9.5 hours of battery life.
Combined with the CAT III isolation rating, these instruments are well suited for applications ranging from small sensor signal logging to electrical power analysis.
The best-in-class 2 µs sampling interval in file mode lets you capture transient events with confidence. Additionally, the large built-in memory allows for data recording over longer periods of time.
Each channel can record a different signal such as voltage, temperature, current or frequency simultaneously, using a common time base.
The next-generation touchscreen features unlimited data scrolling, zoom in/out function as well as drag and drop delta cursors for precision measurements.
All Models in the
DAS 30/50/60
Series: