Keysight 34980A Switch/Measure Unit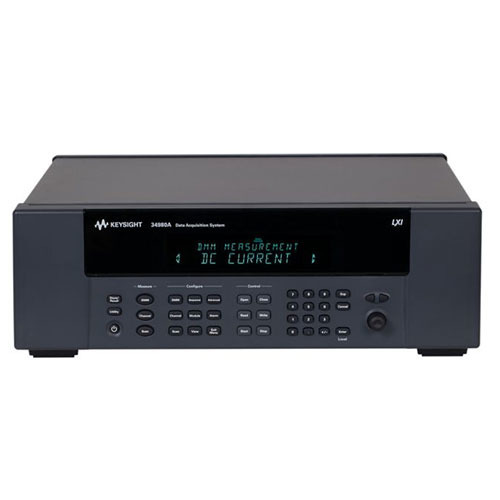 Drill Down Description:

Switch/Measure Unit

Model:

34980A

Web Meta Description:

Keysight 34980A Switch/Measure Unit. Order online from TestEquity, an Authorized Keysight distributor.

Quote Required:

No

Condition:

New

Accessories Sort Priority:

0

Multiple Sale Qty:

1

UNSPSC:

4111000000
8-Slot mainframe with integrated 6.5 digit DMM
21 Plug-in modules - DC to 20 GHz switching, Digital I/O, D/A Converter, Counter/Totalizer
560 2-wire mux or 1024 2-wire matrix cross-points in one mainframe
Scan rates up to 1,000 channels/sec
Standard LAN, USB, GPIB connectivity
Now LXI Class C Compliant
SCPI language compatible with 34970A
IVI-COM, IVI-C, NI LabVIEW drivers included
Front panel or graphical web interface for remote access and troubleshooting
Priced up to 40% less than VXI or PXI systems
A BenchVue software license (BV0006B) is now included with your instrument. BenchVue makes it simple to connect, control instruments, and automate test sequences.
Three-year warranty
Low-cost alternative to VXI & PXI platforms
The 34980A is an eight-slot mainframe that has an optional built-in 6.5 digit DMM with your choice of 19 different plug-in modules. These include switching from DC to 20 GHz, digital I/O, D/A converters, and counter/totalizer functionality. One mainframe can accommodate up to 560 2-wire multiplexer channels or 1024 2-wire matrix cross points. The 34980A also includes USB, Ethernet, and GPIB as standard interfaces to the PC. With Ethernet connections and the graphical web interface, you can access and control the unit remotely. Standard connectors on the modules also allow you to use standard, off-the-shelf 50- and 70-pin shielded cables to easily connect test signals from the instrument to the unit under test or other test points. Additional wiring options include detachable terminal blocks for discrete wiring needs and mass interconnect solutions.
The 34980A includes a built-in graphical web interface that provides remote access and control of the instrument via any Java-enabled web browser. Using the Web interface, you can set up, troubleshoot, and maintain your system remotely.
View and modify instrument setup
Open, close, or monitor switches
Setup and initiate scans
Send SCPI commands
Define and execute switch sequences
View error queue
Get status reports on relay counts, firmware revisions, and more
The internal DMM is mounted inside the mainframe and does not consume any of the eight user-available slots. It gives you the flexibility to measure 11 types of inputs:
Temperature with thermocouples, RTDs, or thermistors (with 34921A)
DC and AC voltage
2- and 4-wire resistance
Frequency and period
DC and AC current
Low Frequency Modules
Module
Description
Max
Volts
Max
Current
BW
(MHz)
Scan
Ch/Sec
Thermal
Offset
Comments
Multiplexers
34921A
40-ch armature multiplexer w/ low thermal offset
±300 V
1 A
45 MHz
100
<3 µV
· Temp reference
· 4 current channels
· Config as 2- or 4-wire
34922A
70-ch armature multiplexer
±300 V
1 A
25 MHz
100
<3 µV
Config as 2- or 4-wire
34923A
40/80-ch reed multiplexer
±150 V
0.5 A
45 MHz
500
<50 µV
Config as 1-, 2- or 4-wire
34924A
70-ch reed multiplexer
±150 V
0.5 A
25 MHz
500
<50 µV
Config as 2- or 4-wire
34925A
40/80-ch optically isolated FET multiplexer
±80 V
0.05 A
1 MHz
Contact Factory
<3 µV
Config as 1-, 2- or 4-wire
Matricies
34931A
Dual 4x8 armature matrix
±300 V
1 A
30 MHz
100
<3 µV
Backplane expandable
34932A
Dual 4x16 armature matrix
±300 V
1 A
30 MHz
100
<3 µV
Backplane expandable
34933A
Dual/Quad 4x8 reed matrix
±150 V
0.5 A
30 MHz
500
<50 µV
Backplane expandable
Config as 1- or 2-wire
34934A
Quad 4x32 reed matrix
+/-100V
0.5A/0.5A
20 MHz
N/A
<70 µV
Row expansion kit,
Config as 1- or 2-wire
General Purpose
34937A
28-ch Form C & 4-channel Form A
+/-300 V
+/-250 VAC
1 A
5 A
10 MHz
N/A
3 µV
34938A
20-ch 5 Amp Form A
+/-250 VAC
5 A
10 MHz
N/A
3 µV
34939A
64-channel 1-am Form A
±100V
1A/2A
10 MHz
N/A
3 µV
System Control Modules
Module
Description
34950A
64-bit digital I/O with memory and counter
Eight 8-bit digital I/O channels with programmable polarity, thresholds up to 5 V, 7 handshaking protocols and pattern memory. Two 20 MHz frequency counter/totalizers.
34951A
4-channel isolated D/A converter with waveform memory
Output DC voltage up to ±16 V or DC current up to ±20 Output waveforms with a 200 kHz update rate and 16 bits of resolution. Use on-board memory to create waveforms with more than 500,000 points.
34952A
Multifunction module with 32-bit DIO, 2-ch D/A and totalizer
Four 8-bit digital I/O channels, two ±12-V analog outputs, and a 100 kHz gated totalizer.
34959A
Breadboard module
Create your own custom designs with access to the +12 V and +5 V supplies, 16 GPIO ports and 32 drive lines.
A BenchVue software license (BV0006B) is now included with your instrument. BenchVue makes it simple to connect, control instruments, and automate test sequences.