TestEquity TEC1 Thermoelectric Temperature Chamber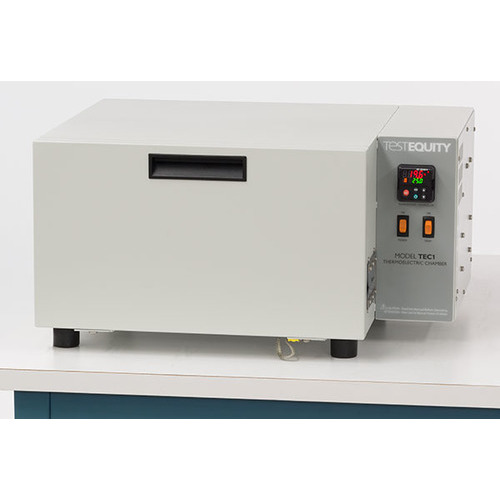 Condition:

New

Drill Down Description:

Thermoelectric Temperature Chamber

Input Voltage:

120V, 60Hz, 1 PH

Interior Volume:

1 Cu Ft

LN2 Boost Cooling:

No

Model:

TEC1

Product Code:

chamber

Quote Required:

No

Temperature, Highest:

+60C

Temperature, Lowest:

+10C

Web Meta Description:

TestEquity TEC1 Thermoelectric Temperature Chamber, uses Peltier devices, no compressor or heater, +10C to +60C

S3 Part Number:

17285.1
Additional shipping charges will be applied after checkout
Description
Technical Manuals
Workspace 16W x 8H x 13D (0.96 Cu Ft)
Exterior 24.7W x 12H x 20.4D
Temperature Range +10°C to +60°C (+50°F to +140°F)
Control Tolerance better than ±0.1°C
Platinum RTD Temperature Sensor
EZ-Zone Programmable Temperature Controller with Auto-Tuning
RS-232C Interface, optional GPIB and LAN
Thermoelectric Heating and Cooling - No Compressors, No Heaters
Low Audible Noise
115V / 230 V, 50-60 Hz Input (switchable)
Weighs only 54 pounds
Cable slots on left and right side for easy cable routing to test sample
Made by TestEquity in Moorpark, California
TestEquity Model TEC1 is the world's first commercially available Thermoelectric Temperature Chamber. It was designed for engineering testing of pacemakers and defibrillators over a relatively narrow range of temperature. It has since been adopted for a wide range of applications ranging from Lithium-Ion (Li-ion) Battery research to Temperature Compensated Crystal Oscillator (TCXO) development. Thermoelectric devices are ideally suited for this application, where just a little bit of heating or cooling is required. The resulting design is quieter, more reliable, more compact, and weighs less than conventional refrigeration systems which use a compressor.
Low-Noise Operation
Thermoelectric (Peltier) Devices are used for cooling and heating instead of a compressor and heater. Lower noise than compressor-based systems and highly reliable. More Info

Low Power Consumption
Draws less than 6 Amps at 115 Volts. You can plug it into any standard wall receptacle, with plenty of power to spare for other equipment. The internal power supply is switchable for 230 Volts, 50 Hz operation in other countries.
High Reliability
No compressors to fail, no refrigerant to leak, no heaters to burn out.
EZ-Zone Programmable Temperature Controller
Allows ramp/soak programming with up to four profiles and 40 total steps. A bright LED readout indicates the actual chamber temperature and set point with 0.1° resolution. Auto-tuning allows you to optimize the control response to suit your unique application. RS-232C interface is included. Optional interface for GPIB or LAN is available, and can be added at any time. More Info

Two Cable Slots
Lets you attach wires and sensors to your test sample through both the left and right side of the chamber without disconnecting your wires.
World's Best Environmental Chamber Warranty
Only TestEquity offers a 3-year warranty on parts and 1-year warranty on labor. More Info